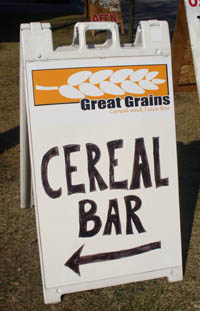 This sandwich board stopped my power-walk home from the gym dead in its tracks. I stopped my chronograph and grabbed my camera out of my bag. I started taking pictures and looking for the cafe.
Across the way from the raw food bar and next door to the oxygen bar, sits Great Grains Cereal Bar. You can walk in and have a bowl of cereal. That's all they sell is cereal. There is a chain of these specialty cafes called Cereality, but Great Grains has nothing to do with them. They are a home-grown cereal bar, just like we like our quirky restaurants.
When you walk in, you're confronted with a long line of cereal choices. You can purchase a big bowl or a small bowl and you get to mix your cereal from your favorites.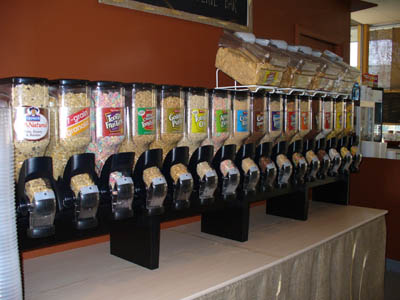 They also have a selection of hot cereals for a total of twenty to choose from. You can top your cereal off with a wide variety of fresh fruits and flavored milks. There are so many choices, I can almost feel my mind locking up right now.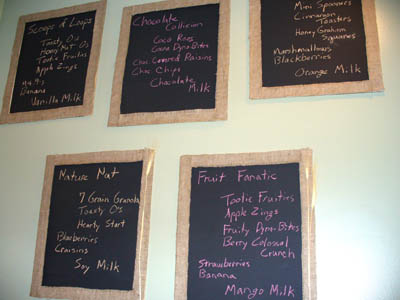 If your brain does lock up at all the choices, there are some suggestions on the wall to spark your imagination. Depending on your toppings and bowl sizes, a good bowl of cereal will probably cost you between 1-3 dollars.
They also have juice, coffee and hot chocolate for your drinking needs (not to mention the wide variety of flavored milks). You can sit down with a hot cup of coffee and a bowl of Raisin Bran with mango flavored milk.
When my sister told me about the Cereality in Chicago, I wanted to try the place out. I was jealous that they were going to Chicago without us. Here we are, the crazy Metropolitan trends are coming to our town today. We have our own cereal bar, who needs Chicago?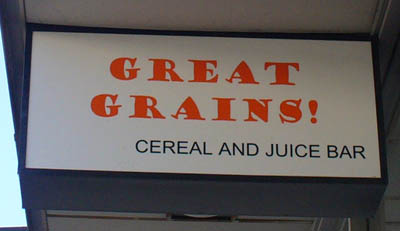 Where: 2148 S. Highland Dr. Salt Lake City, Utah Google Map Phone: 801-485-6300