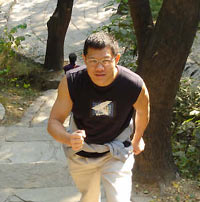 Forty-six year old Yang Guangwen has decided to ride his bicycle around the world all by himself.
He has plans to visit the cities who have hosted the Olympics in honor of Being's 2008 Olympic hosting. I have fantasies about traveling around Europe on a bike, but this takes bicycle touring to a new level. When I am riding on my bicycle, the whole world is smaller and I see things that I wouldn't have seen rushing by in a car. That's why travel like that is appealing to me.
That said, I have ridden in a car along I-80 and the strip from Wendover to Reno is an empty expanse of life-endangering heat in the summer and cold in the winter. I'm sure the rest of the world has its own expanses of desolation. It doesn't say in the article whether he will come through Salt Lake City, but if he does, I'll be there, cheering him on!
"I'll travel and speak to people around globe, telling them how Chinese are in favor of the notion of Olympism – friendship, solidarity, and peace. I'll record 2,008 wishes for the Beijing Games from 2,008 people during my trip and send them to the Games' headquarter in Lausanne (Switzerland)."
Good Luck, Yang!
Via: World Hum | Travel | Chinese Cyclist Aims to Ride Solo Ride Around the World