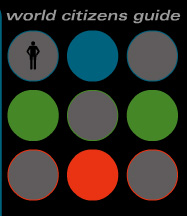 I'm scared of traveling to Europe because I don't want to seem like just another Ugly American. You know the type. They show up dressed incorrectly and assume that everyone speaks English. The problem is, I've never been taught the etiquette for different countries and I don't speak many languages. How am I supposed to act? The World Citizen's Guide is here to help me.
Their 25 point brochure helps tourists act more like a world citizen than a American citizen. You can download it for free here:
Some of the advice is right on:
Be a traveler, not a tourist. Before you touch down in another country, learn as much as you can about it.

Be quiet. Less is more. In conversation match your voice level to the environment and other speakers. A loud voice is often perceived as a bragging voice.

Dress for respect. Americans are fundamentally a casual people. Jeans, T-shirts and sneakers work for many of us much of the time, but there are people in other countries that believe such casualness is a sign of disrespect to them and their beliefs.

Keep your word. If you say that you will e-mail, find that book or baseball cap and send it, then make sure that you keep your promises.
This advice is good no matter where you are traveling. I find that people visiting from other states tend to make these same mistakes when they visit Salt Lake City. This brochure is good advice all around.