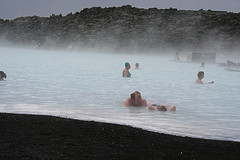 Traveling to Iceland was never something on my list of things to do, but after hearing Maggie Mason's description of the blue lagoon in Iceland, it sounds like something I might enjoy.
"The salty water makes it easy to float on your back and feel the cool air on your face. It's so relaxing that you have the urge to drool."
The foggy mist rising from the water is enticing to me. After reading later posts, she strongly recommends wearing a bathing cap to prevent the water from damaging your hair.