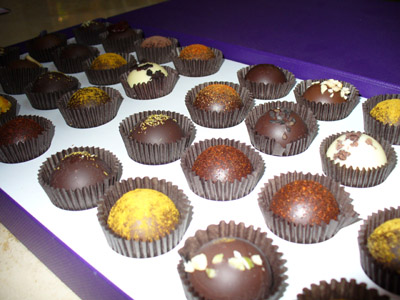 While we were in Las Vegas, we stopped at the Vosges Haute Chocolates shop at The Forum Shopes in Caesar's Palace. Stacey and Dan bought a large box and Mike bought a small box of the expensive treats.
Sadly they were nothing more enjoyable than the chocolates we can get at home at Xocolate for half the price. Additionally, there are some irritating things about their service that make me want to avoid the store from now on.
The store has a pretentious feel. I didn't really feel "rich" enough to buy the chocolates there, even though I have plenty of money. I don't need a snooty atmosphere to keep my chocolate fresh.

The girls behind the counter weighed no more than 110 pounds. I have a hard time believing the clerk when she says she eats the chocolate all the time and she is rail thin. I can't believe her when she says a particular truffle is good because it looks like she has never eaten chocolate in her life.

They write up a directory for you so you can tell the different truffles apart. That's great, but if your chocolates drop off of the back of the car and get all jumbled up, that directory is useless. A pre-printed guide with pictures describing each truffle would be MUCH better.
In the end, I liked the chocolates, but they weren't better than ones I had eaten at half the price. I detested the snooty atmosphere and I'll probably never go there again.
---
Where: Google Map
Vosges Haute Chocolates
Forum Shops at Caesars
3500 Las Vegas Blvd South Suite R04
Las Vegas, NV 89109
Ring: 702.836.9866
Hours: Sun-Thurs. 10-11, Fri-Sat. 10-midnight