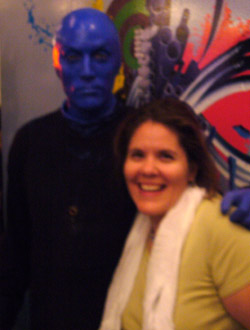 The highlight of our recent trip to Las Vegas was a visit to the Blue Man Group. I had seen their show at the Luxor hotel, but not since they moved to the Venetian. The show was a wonderful surprise!
The Venetian show is different than their "How To Be a Rock Star" tour, of course, but it was also vastly different than the Luxor show. The theater has a smaller and more intimate feel. Part of me desperately wants to be chosen by a Blue Man to be a "victim" in the show. Another part of me just wants to sit back and enjoy things. I somehow think that the "victims" are chosen before the show even starts.
The woman they chose to share their Twinkies with this time around was dressed in traditional Indian garb. With all the problems we've had with the Middle East, I felt a certain connectedness with her. Her husband sat near us and laughed lovingly as he watched her discomfort dealing with the three naive mutes at her side.
When they performed "Persistence of Vision," they said the phrase, "microscopic moments of blindness." I don't remember hearing that phrase before when I saw that performance. It was such a beautiful pairing of words that I felt it burn itself into my memory. The dancing sculptures were vibrating before I recovered. I was gorgeous.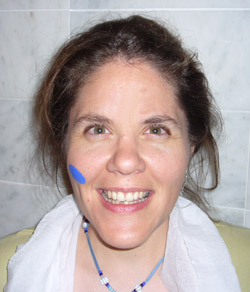 When I've seen this show before, we had seats in the back, but this time, we were very close to the front. It was a vastly different experience. Not better or worse, just different. When the tubes fell from the ceiling, they surprised me. I thought something was falling on my head. When the paper started coming at us from the back, it looked like a rush of white water heading toward us. When it flowed off the balcony, it looked like whipped cream, alternatively spilling and sticking to the fixtures.
Afterward, they allowed people to have their picture taken with a couple of the Blue Men. I asked for a blue mark on my face and he silently looked at me. He swiped his finger across his own face and then touched my own.
As we waited for the valet to get our car, a stranger looked at me. "I know where you've been," he said knowingly. I smiled happily to myself.
---
Where:
The Venetian Resort Hotel Casino
3355 Las Vegas Blvd. South
Las Vegas, NV 89109
Phone: 702.414.1000 or 877.883.6423
Blue Man Group Performance Schedule:
MON-FRI 7:30pm
SAT 7:30 and 10:30 pm
SUN 7:30pm
Ticket Prices: $71.50 to $121.00 (and totally worth it!)