During our trip to San Antonio, Mike and I took a break and went to Michaels Arts and Crafts. We went there to look at arts supplies and just relax. We have Michaels in Salt Lake City, so we thought it would be a familiar reminder of home. Instead, it was a very different store. There were two full aisles of ribbons in bright, primary colors. It was so interesting, I took photos. Michaels announced to the residents of Texas that they were your Homecoming Headquarters, but I had never seen anything like this for Homecoming. What was all this stuff?
While I looked at all the ribbons, flowers and megaphones, I became more and more confused. I asked one guy who worked at service desk what it was all about, but he was unable to explain it to me. I returned to the ribbons. A kindly woman said to me, "Ah, it's Homecoming Time. They've got to get their mums ready." I pounced on her like a housecat left alone too often. With some coaxing, Joan Anderson was willing to explain it all to me.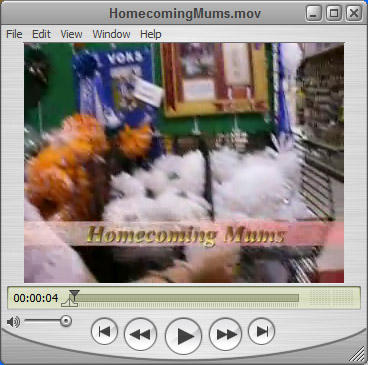 Texas sure does love their high school football. Using the artificial mums, ribbons and other decorations, you can create a Homecoming Mum. They are for girls and they wear them to the Homecoming game. It's not for the dance, just the game (you get real flowers for the dance). This is only for football. Basketball doesn't get this kind of attention.
I don't know if this is still the case, but Joan says that the boys' mothers would make the mums so the boys could give them to the girls they like best. A girl could have many different mums from many boys. The girl with the most mums is the most popular.
"Look there. There's one over here that has three mums on it. This girl would have to be very special, wouldn't she?"
Part of me wants to get a whole pile of mums from every boy in town. I want to be the girl with the most mums. I want to be very special. This Texan practice feels very guttural to me. I can feel it in my bones and gut. We had nothing like this in Salt Lake City, Utah. Who knew I would find something so unique and foreign a mere 1800 miles away.
---
For more information: