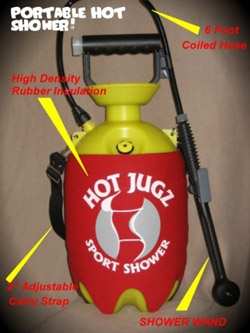 If you have gone camping for more than three days in a row, you can understand the appeal of portable showering devices. The problem with most of them is that the water is COLD. With Hot Jugz, you can heat up the water before putting it into the device.
It's being advertised as a great alternative to beach showers. It is supposed to keep the water warm for seven hours, so you can fill it up at home, swim, surf or snorkel to your heart's content and then wash the salt off your body with warm water instead of the cold stuff. They've based the name of their product on the fact that it keeps water warm, but that's not the best asset of it.
The best part is that you don't have to put the thing above your head to make it work. All you have to do is pump it up (15-20 pumps) and the water will flow from the showerhead. Great idea!
Via: Popgadget: Personal Tech for Women – Hot Jugz: a portable shower