Nestled in the Fremont Street Experience is a quiet and unassuming casino called Mermaids, its neon beckoning to weary travelers…

Okay, no matter how I write this it's going to sound WRONG. Mermaids is a gaudy and bright casino that hands out metallic beads to the tourists passing by. It is loud and crowded, but compared to the horrible monstrocity of The Fremont Street Experience, it is a quiet and beloved haven.
We had been bombarded with noise, light and bad acting on Freemont. There was only one thing that could make this trip worth it: Deep Fried Oreos…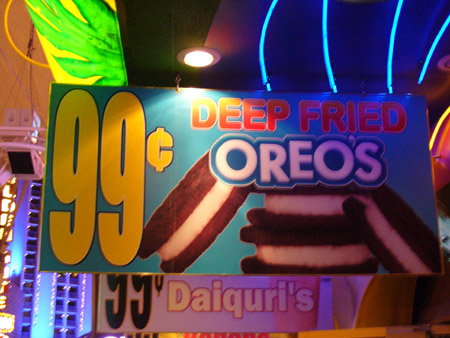 We had taken in our fill of the Neon Sign Museum and had enjoyed it thoroughly, but the rest of Freemont Street was an unenjoyable mess. Instead of the exciting walks down the Las Vegas Strip, all the "excitement" coming from Fremont Street was artificial. The people there were assaulted with noise and lights. They weren't happily talking about their win at the slot machine. It was impossible to have a conversation without yelling. When we walked into Mermaids, the ambient casino noise seemed like silence compared to the cacophony outside.
We waited in a long line, trying to figure out if this was THE line for the deep fried Oreos, deep fried Twinkies, foot-long hot dogs and mile long margaritas. Once we realized we were in the correct line, it was a fifteen minute wait just to order. Our deep fried Oreos, came quickly after ordering, though.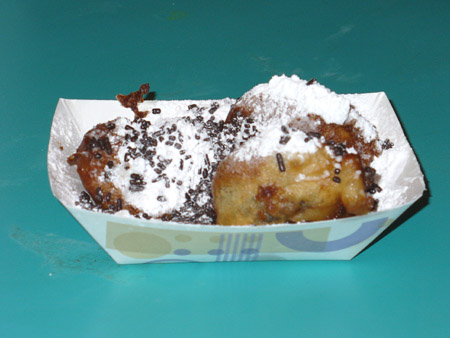 If you have ever dipped an Oreo into warm milk, then you've got a good idea of how deep fried Oreos taste. The frying process warms up the cookie and that partially hydrogenated oil in the white stuff warmed up to a tasty frosting consistency. It was good, but I only needed one bite before I was finished. Luckily, we shared.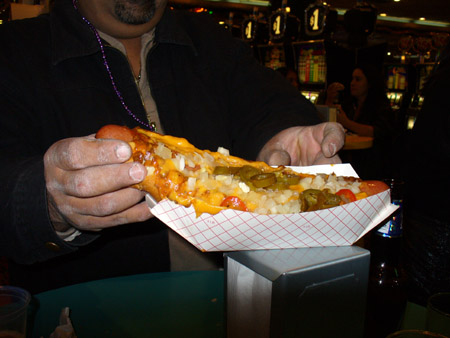 We didn't order the hot dog, but this gentleman was kind enough to let me take a picture of his. Frankly, I think I would have liked the hot dog with all those jalapeno peppers better than the greasy Oreos.
We have never been back to Fremont Street since. The only thing enticing us was the deep fried Oreos, but even their delicious and greasy goodness isn't enough to entice us back to the noisy mess of The Fremont Street Experience.
<hr/>
Where: Mermaids Casino: 32 E Fremont Las Vegas, Nevada Google Map Phone: 702-382-5777