Apparently, all the Las Vegas hotels are filling up fast for July 7th, 2007. I am usually a numbers obsessive, but this date slipped right past my notice this year. 777 is a lucky number for some, so the date of 07/07/07 is filling the Vegas hotels. Or… is this article from World Hum just bogus?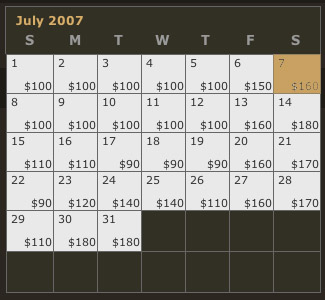 I checked the hotel reservation calendar for The Luxor Hotel in Las Vegas. This is the current listing for July. I highlighted the 7th, and the hotel room costs about as much as it usually does in July. In fact, it's a few bucks cheaper than the following weekend.
If hotels were really filling up and booking fast for 07/07/07, then the hotel rate would reflect that. The rates for the Luxor during CES were well over $200. It sounds like World Hum's article is more about selling hotel rooms than about what's really going on.
Sure, there might be a run on the hotel rooms when it gets closer to July, but it's not happening right now. I like to think that we humans are less superstitious than you make us out to be…