Last year, when we visited San Antonio, we took a tour of the San Antonio Botanical Garden. I filmed a walking video for Starling Fitness and it is finally ready!
I'm offering this DVD for $5 including shipping and handling in the continental U.S. If you live elsewhere contact me and we'll figure out how much it will cost to ship to you.
Order Starling Fitness Walking Videos Here
Here is a glimpse of what the walk will be like: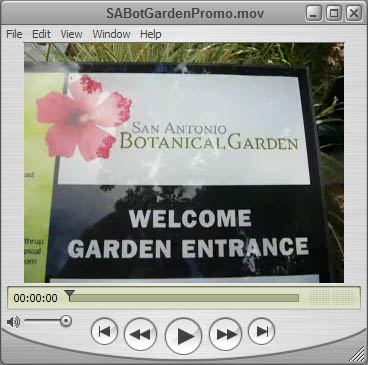 Video Description:
I was lost and unprepared for the hot Texas weather, but that didn't stop me from enjoying the garden's beauty. From the native Texas grassland areas to the indoor fern grottos, I filmed all that the San Antonio Botanical Garden had to offer.
Wander along the garden paths. Watch the birds fly past you and squawk at you from the trees. Smell the herbs and flowers in the garden for the blind. Breathe in the humid air in the fern grotto. Explore the historical homes of Texas' past. Chase down the golf cart. Can you keep up?
If you are missing the beautiful greenery that Texas has to offer, you can enjoy it every day with this video.