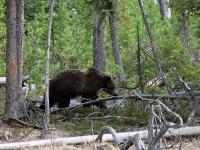 Click any of the photos in this post to view the large photo (800 x 600) in a separate window.
There's one sure way to spot a bear at Yellowstone National Park: look for a long line of cars parked at the side of one of the roads through the park. A bear that can be seen from the road will always draw a crowd.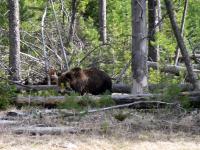 Last time we saw a bear at Yellowstone, it was about a hundred yards away in the woods, and there was no way to get a good photo. Some fellow tourists demonstrated their stupidity by walking much closer, but we stayed by the road and contented ourselves with some blurry photos.
This time we were lucky—the line of cars on the West Yellowstone-Madison road led us to two black bears grizzly bears, much closer to the road. They were across the river, which prevented any tourists from risking their lives. We were able to set up tripods and get a couple of decent pictures this time, along with Laura's video.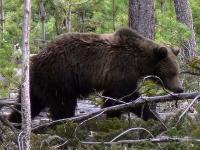 These appear to be Grizzly Bears, although we thought they were on the small side. Two of them were feeding on something (Bugs in a rotting log? A dead animal?) and they parted ways and walked in opposite directions along the river as we approached.
Update 05-02-07: I've added this map to show you approximately where we saw the bears. They were midway between the West Entrance and Madison Junction.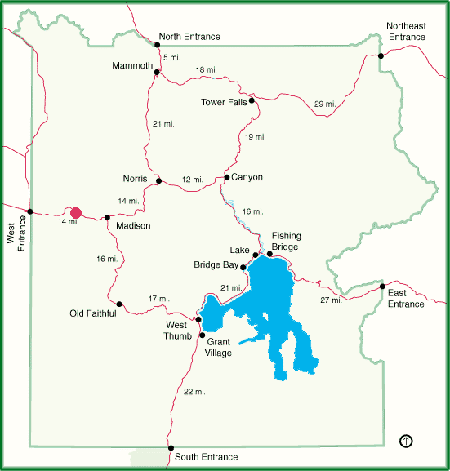 Update 05-04-07: I initially identified these as black bears, but I'm pretty sure they are grizzlies. Learn how to tell the difference.