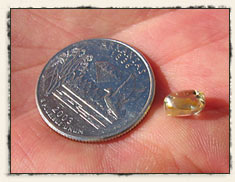 The diamond mines of Nevada have nothing on the Crater of Diamonds State Park. When you visit, you're allowed to dig and keep whatever diamonds you find. Somehow this seems wrong to me. Every state and national park I've ever visited has balked at removing a mere pebble, but at this one, you can take away a 3 carat diamond? How can this be true?
Apparently it is and Nicole Ruhter did just that.
Diamonds ranging from 2-6 carats have been found. It all seems like a publicity stunt to me, but the idea of being able to find my own diamond instead of wondering how many African orphans died in mines has me looking at a trip to Arkansas.
---
Where: Crater of Diamonds State Park Google Map
209 State Park Road
Murfreesboro, AR 71958
Email: craterofdiamonds@arkansas.com
Phone: (870) 285-3113