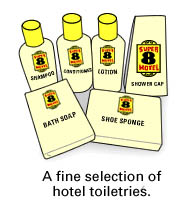 Apparently, Hotel SWAG doesn't make the cut for a Christmas gift. Joy of Tech had this comic of Christmas gifts for people you don't like and Hotel SWAG was prominently listed.
I've come to LOVE Hotel SWAG. I can't wait to see how it will be presented in the hotel room and what it will look like. If someone were to send me pictures of Hotel SWAG for Christmas, that would be a VERY Merry Christmas indeed.
I can understand why the SWAG from the Super 8 Motel might not be a good gift, but come on, this stuff from the Best Western Clock Tower Inn in Billings, Montana was preemo:
Sure, it wouldn't make a good Christmas present, but I've been walking around with that lotion bottle in my purse since August when I got it. It's so slim and portable and everyone looks impressed when I pull it out. Plus, the lotion smells nice.
Hotel SWAG might not make a good Christmas present for everyone, but for me, it's a little gift that the hotel gives me every time I stay there.
---
If you have taken pictures of Hotel SWAG, please share them with us on Flickr:
Or you can contact me and I can post them here and give you credit for it: