This week's postcard was sent to Mrs. E. P. Bejot in Ainsworth, Nebraska on June 23, 1959.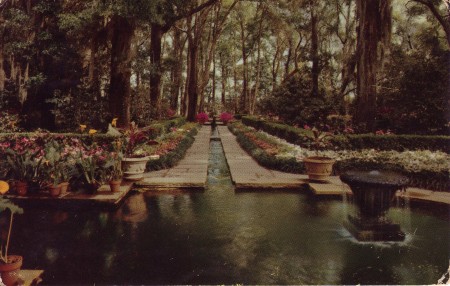 The postcard reads:
Bellingrath Gardens, Mobile, Ala.

Fountain and Courtyard, looking toward the Isle-Au-Oies River along one of the picturesque flagstone walks.

Pub. by Deep South Specialties, Inc., P.O. Box 1802, Jackson, Miss.

Color photo by WM. W. Lavendar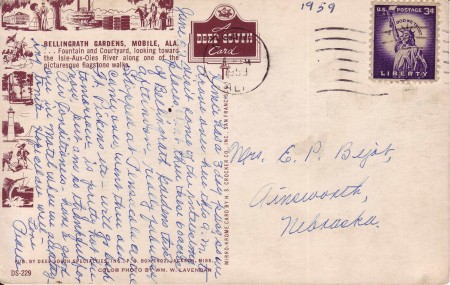 The letter to Mrs. Bejot reads:
Henrie has a 3 Day Pass, so we drove over here this a.m. to visit some of the interesting places. Went thru these 60 acres of Bellingrath Gardens this afternoon – really fabulous. Stopped at Pensacola as they came over, went thru old J. R. Pickens, etc. – will go back tomorrow. Is pretty hot here now but am so thankful for air conditioners – have a good one in motel where we are staying tonite. Hope all are well.

Love, Pearle
Pearle sent many postcards to Mrs. Bejot over the years and this one is beautiful. She must have been a devoted friend/daughter/sister. However they were related, Mrs. Bejot saved Pearle's postcards with care.
Bellingrath Gardens still enthralls visitors today.
Bellingrath Gardens
12401 Bellingrath Road, Theodore, AL
Phone: (251) 973-2217‎
Here is a slideshow of photos from the gardens: