Mike and I found this old photo of Las Vegas in an antique store a few months ago.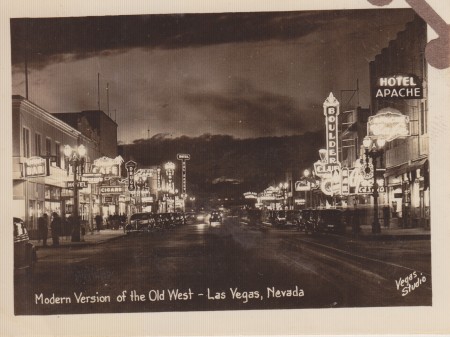 The caption reads:
Modern Version of the Old West – Las Vegas, Nevada

Vegas Studio
The cars in the photo look like they are from the late Forties or early Fifties. The I can see Hotel Apache and its casino, the Boulder Club, Overland Hotel, Hotel Sal Sagey, The Las Vegas Club, and Boulder Drugs.
Seeing the Boulder Club and Boulder Drugs in this photo, made me think that it wasn't a photo of Las Vegas at all, but rather Boulder City, Nevada. That city, however, hasn't allowed gambling since 1932, so it couldn't be a photo of Boulder.
Adding to the mystery is the handwritten note on the back of the photo: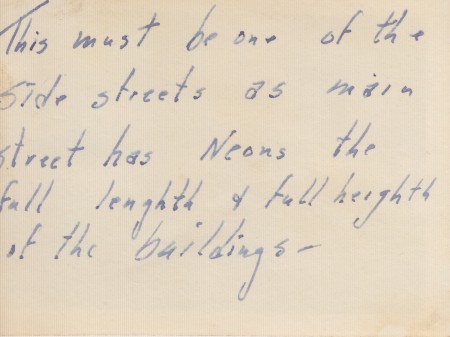 It reads:
This must be one of the side streets, as main street has neon the full length and full height of the buildings.
So, even the person who sent this picture to a loved one so long ago didn't recognize which street in Las Vegas it was. I was able to find an old postcard for the Apache Hotel on Flicker, but it didn't have an address.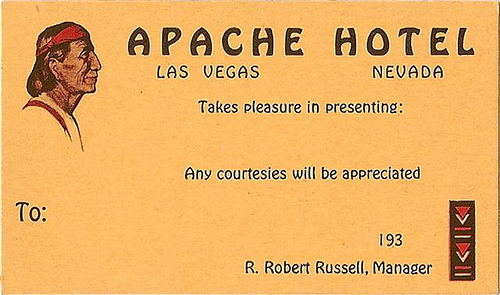 Hotel Apache was most definitely in downtown Las Vegas. In fact, in 1932, when it was built, it was the first building with an elevator in Nevada. You can find out more about it here:
It appears to have NOTHING to do with the current-day Apache Motel that is on Main Street of Las Vegas. The building is completely different.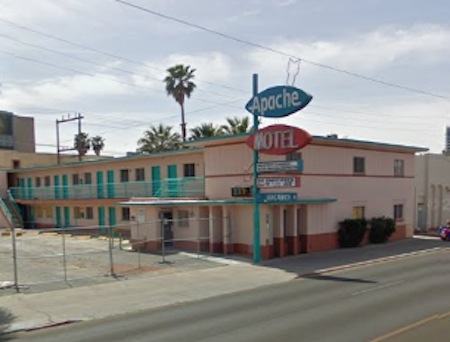 To me, the best part of this touristy photograph is the title: Modern Version of the Old West. Eighty years after Hotel Apache was first built, this picture is looking not very modern at all.