Last January, Mike and I attended the Quartzsite RV Show in Arizona. It has now been almost two months since the show and I can safely say that it was not for me.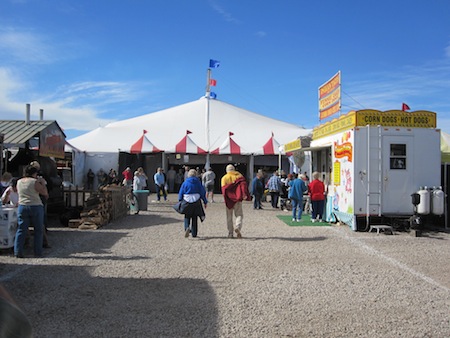 The RV shows in Salt Lake City are huge collections of trailers, motorhomes and campers all available for sale. The hype around the Quartzsite show was that it was, and I quote,
The largest gathering of RVers in the world.
I thought that meant that I would be able to look at trailers and campers from every manufacturer in the U.S., but I read it wrong. It's the largest GATHERING of RVers, not RV dealers or manufacturers. It was a show for people who RV, not an RV show.
Sure, there were a few RV dealers there, but they brought only the biggest and most extreme motorhomes and fifth wheels. I literally had a salesman laugh at me when I said we were looking for trailers 16 feet or smaller. He said,
"You can't even sleep in 16 feet."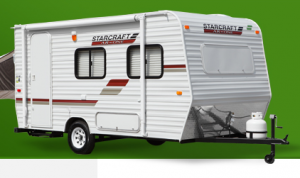 That was the moment when I realized that the man had never heard of a teardrop trailer, much less had one to show me. For weeks before the show, I dreamt about finally being able to see a Heartland MPG or Forest River RPod in person. I stared my disappointment in the face as the salesman tried to show us a Starcraft AR One, which is quite possibly the ugliest lightweight trailer on the market today.
The big tent was filled with As Seen On TV products. It was like the Utah State Fair, but there were THREE salsa making demonstrations instead of just one. There were a few representatives from campgrounds there, trying to attract RVers, but when we asked if they had tent sites, they looked at us like we were insane. I could almost hear the gears clicking in their skulls. "Why would you sleep in a tent when you can sleep in an RV?" I could almost hear the question come to their lips, but they just shook their heads and said, "No, we don't have any tent sites." It was as if I had stepped into another dimension, where sleeping in a tent was nearly incomprehensible.
When we ate lunch, we sat at a table with three other couples. All of us enjoyed the delicious BBQ and talked about what we had seen. I asked them a few questions. "Are any of you full-timers?" Only one couple was. The other two were escaping the bad weather in Canada and Minnesota.
"Did any of you camp in tents before you bought your RVs?" Everyone said that they had. "Why did you buy RVs?" The answers were unanimous. They were sick of sleeping on the ground. I held my tongue and didn't mention the cots that set up in less than a minute. None of them mentioned the cold, which is the only reason I'm really attracted to an RV.
I wished them all well and gave them my phone number so they could call me when they passed through SLC on the way back home, but it was obvious to me that I would never see any of them again.
Quartzsite just isn't my scene. I'm not the target audience.
Starcraft AR One Photo Via: Starcraft AR One 2012