Here is a great tutorial showing you how to make a keer pot, which is a food cooler that uses clay pots and water evaporation to keep food cool.
It seemed to work pretty well for him. With an ambient temperature of 82 degrees, he was able to bring the temperature in the keer pot down to 51 degrees. There are two disadvantages to this type of setup: weight and humidity.
Clay pots, water and sand are very heavy. If you make your keer pot and leave it in your backyard to use during BBQs and other fun events, then it's not a big deal, but trying to take that monster with you camping is not practical. I realized I had all the parts of a plastic keer pot at home, so I created one.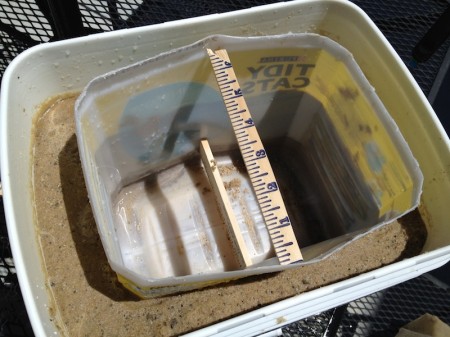 Not only are there logistic problems with plastic pots (the sand crushes the sides in and the water makes the inner pot float), the water doesn't evaporate quickly enough to create any noticeable cooling effect. Additionally, the laundry detergent bucket weighed so much after I added the sand and water that I could barely lift it. A keer pot is definitely not a portable option.
Since this method of food cooling depends on evaporation, this pot won't work as well in humid areas. Where I usually camp, Utah and Nevada, this thing will work like a dream, but in any area with higher humidity than a desert, the water in the pot just won't evaporate. This video was filmed in Florida, however, which tends to be WAY more humid than Utah, so maybe we'll get even better results in the desert.
I love this idea. It made me want to run to the home improvement store to get the supplies to make one of these for my backyard. I had this image of myself showing it off to my family and amazing them with its ingenuity, and isn't that the best part of a do-it-yourself project?
Via: Lifehacker – Keep Your Drinks and Food Cool in the Sun with a No-Electricity-Required Zeer Pot Fridge