Growing up in Utah, I was a bug-lovin' girl. I caught every kind of bug that inhabited our neighborhood. When Mike was a kid, he went so far as to have a fully stocked terrarium with pill bugs (armadillidiidae) and plenty of food for them to eat. The terrarium was such a healthy environment for them, they reproduced. Tons of tiny, white baby pill bugs grew to adulthood under Mike's care.
So, both of us were fascinated by the lovely variety of insects available in the South. We've already talked about the Oklahoma Fireflies on our trip, but the day we left, we were swarmed with a huge variety of butterflies and moths.
The first, we saw at the gas station in Oklahoma right before we left the next morning. I believe it's a Polyphemus Moth (Antheraea polyphemus). There was something the matter with him because he could barely fly and let me take a photo of him.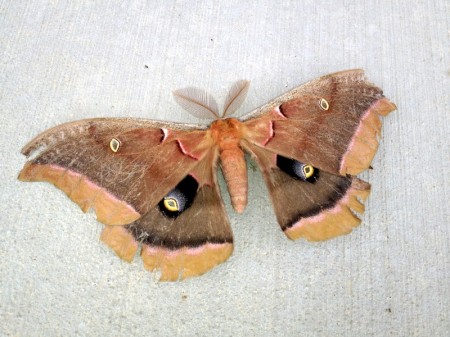 I wish I had (Continue Reading…)