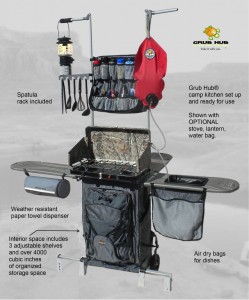 While looking for Camp Kitchens, I found the Grub Hub Camp Kitchen. It looks like it's lighter and more compact than my Mega Camp Kitchen, with many of the same features. There is a sink, upper storage area, and a spot for the camp stove.
They even say that it's sturdy enough to hold a water bladder for gravity-fed water, but I have my doubts about that because I've tried to use a bladder like that for water on my own camp kitchen. Even though my camp kitchen is far more stable than the Grub Hub, it still swayed in the wind, so if you spend the extra money on the water bladder, it's probably best not to fill it to capacity.
You can see it in action after the break:
Here's how to set it up:
I like the water resistant paper towel holder.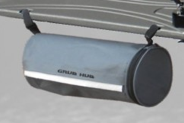 Another good idea is the accessories holder.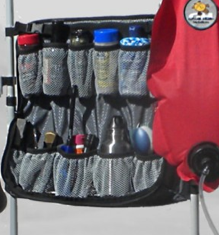 I also like the mesh dish drainers, but you could use this inexpensive mesh bag I found for sale at Amazon for only 7 bucks: Adams Mesh Multipurpose Bag with Drawstring at Amazon.com. I talked aobut this more here: Starling Travel – Use a Mesh Laundry Bag To Dry Dishes.
I have two problems with the Grub Hub. The first is stability. I don't always have a nice area to stake down my camp kitchen. It needs to be stable on its own. Even my Mega Camp Kitchen can be slightly unstable in the high winds when I have water on the upper shelf. The Grub Hub would be pushed over in a minute at most of the places I camp.
The second problem I have is with the price. At $379, it's over TWICE what I paid for my camp kitchen. In fact, there are MANY camp kitchens with similar features for less money. Here are some links:
In the end, the Grub Hub is a cool idea, but it can't compete with the stability and price of my camp kitchen.