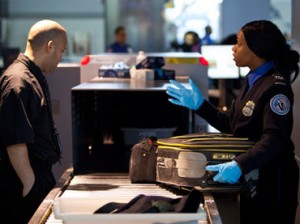 According to RT, Pythias Brown, the TSA agent who was convicted of stealing from airline passengers, said that it's very commonplace.
A TSA agent convicted of stealing more than $800,000 worth of goods from travelers said this type of theft is "commonplace" among airport security. Almost 400 TSA officers have been fired for stealing from passengers since 2003.

But while Brown believes he might have been one of the worst thieves at the TSA, he imagines the agency's culture makes it easy for others to do the same. Many officers don't care about their work and complain about low pay and being treated badly, he claims, which prompts them to steal. To make it even easier to get away with, TSA managers also never search their employees' bags.
From the near strip searches to the thieving TSA agents. From the HOURS of being locked in a plane trapped on the tarmac to the high cost, there is NOTHING that entices me to fly. We are going to Disney World in April and we'd rather DRIVE for five days straight than take a plane.