I saw this camper on eBay, but photos and descriptions don't last long there, so I wanted to preserve it.
It's a 1963 Little Gem Bug and it's as cute as one: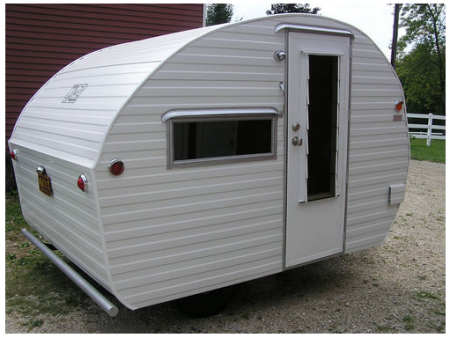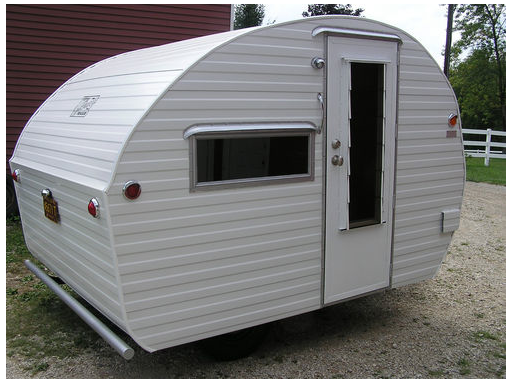 Here is the description from the eBay listing:
1963 Little Gem Vintage Canned Ham Camper/Trailer. This is a beautiful, vintage 1963 Little Gem Bugg canned ham camper/trailer! One of only 35 built in 1963 in Grand Rapids, Michigan. She is 9ft 6" long x 7 ft wide. Total of 11 ft long including the hitch ball, and is so easy to tow a 4cyl car could tow it. It has a clear Michigan title showing a weight of 995 pounds!

This awesome vintage camper/trailer underwent a complete frame off restoration/renovation which was completed in June 2012. It is in extremely beautiful condition! Too much has been done and replaced in the renovation to list it all & mention it, but here is some of it. It has all new ¼" Canadian Birch wood interior, all new inner frame structure and all new .030 white metal exterior. All inner structure is screwed together and glued. All new stainless screws on exterior. It is completely sealed and has no leaks whatsoever. The 5/8" floor is new with period correct 12"x12" Tarkett tiles. All of the 110v & 12v electrical wiring and plumbing is new. Has a 35amp fuse box with 10.ga wiring from 35amp campground connector. A 20 gal fresh water tank is inside and a city water hookup for the faucet. It has new stainless steel 2 burner propane stove and a new stainless steel 110v fridge. Also has the original equipment options of a propane gas heater and propane wall gas light and both work wonderful.

Every inch of woodwork with this camper is brand new, with a countertop for the kitchen area and a table top with classic period correct formica, closely matching the new floor tile. There is a full size bed area for a mattress and there is head room standing inside the trailer for a 6ft. person.

New 12v interior & exterior lights throughout, with a beautiful 12v porch light overlooking the jalousie tinted windowed entrance door. It tows beautifully with all new exterior electrical wiring & lights with L.E.D. turn signals and brake lights. Also has the 7 way trailer plug and automatically charges the new 12v deep cycle battery when it's hooked up to tow vehicle. The 3 NANCO ST tires are brand new and has period correct new baby moon hubcaps. The exterior has the City water hookup, the 35amp plugin for 110v, a cable TV hookup and the water storage tank fill port.

We had planned to use this trailer to go to various vintage trailer rallies and car shows. It looks great behind any car especially a classic car! You will definitely get a lot of attention and thumbs up with this beauty. This is an amazingly professionally rebuilt VINTAGE Canned Ham camper/trailer renovated to a much higher level than anything new in 1963.

This is ready to roll to the camping site and to be enjoyed & admired at the next camper/ trailer rally or car show! It is offered for sale at only $8700.
The Little Gem Bug is very rare, but I did find a photo of another one on Flicker:
There are lots more pictures after the break…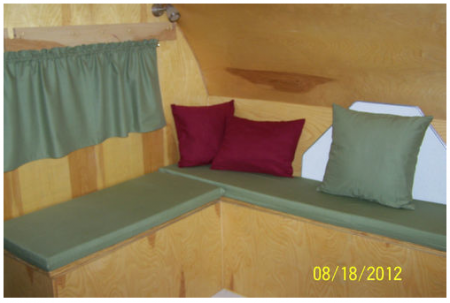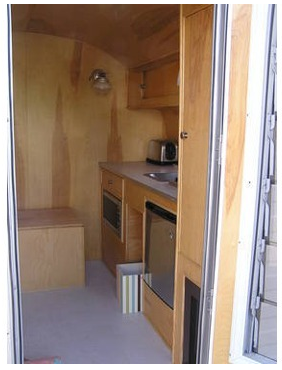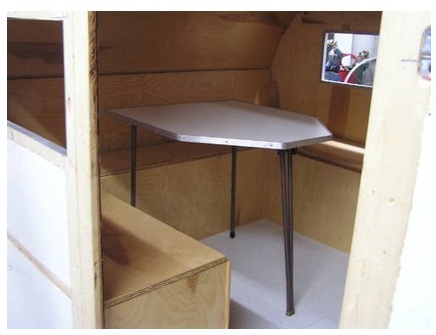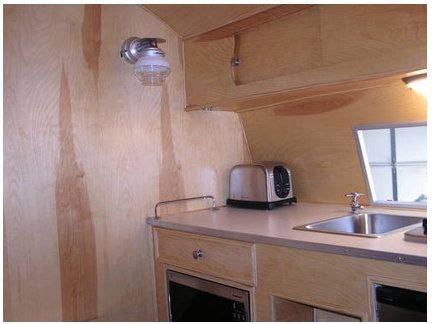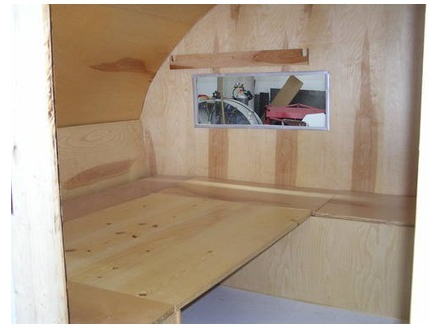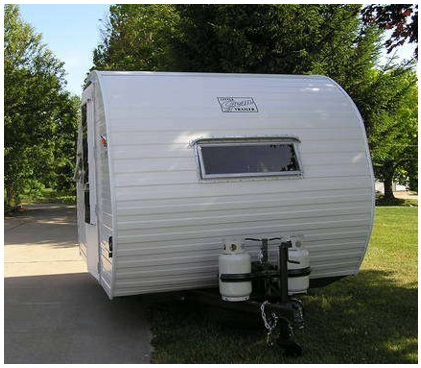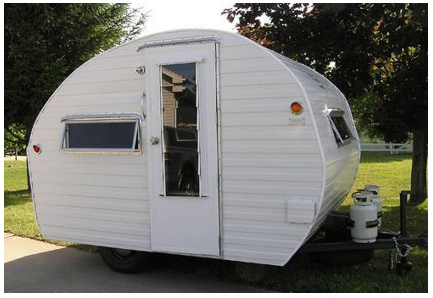 Update 01-28-13: I found another Gem Camper on Flickr here: