When New York was hit by Hurricane Sandy, the residents were without power. The people at Biolite set up a booth on the street, offering free phone charging, using their Biolite stoves.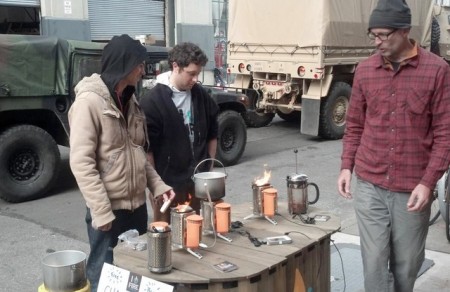 Keeping my iPhone charged when we are boondocking is the biggest problem I have. Usually, we have to plug the phones into the car and keep the car running until the phones are charged. I hate to just sit there with my car running while I'm charging my phone, though. Using scraps of wood to charge my phone is another method that I could use to keep my phone charged.
Here is a video showing the Biolite stove:
The Biolite isn't the only option as far as this is concerned, though. There is another charger called the Cup Charger that could be used. Compared to the Biolite, it charges a lot quicker.
My biggest problem is that either way, we have to monitor the phone charging process. If we hook them up to the car and leave it running, we have to watch the car while our phones charge. Of course, we can charge ALL our gadgets at once when we use the car. With the Biolite or the Cup Charger, we have to monitor a fire and keep it from burning out or out of control. Additionally, about 70% of the time, we camp in places where fire is restricted for fear of wildfires, so we wouldn't even be able to USE the Biolite or Cup Charger in those spots.
It's looking like our best option would be to hook up a good battery to our tent trailer and make sure it's charged before we go out camping (and can be charged up again with the car). Then, we'd have enough juice to keep our gadgets charged and it's a little less work than keeping a fire alive and raging.
Photo via: Oh, Just Brooklyn Survivalists Charging Cell Phones With Camp Stoves As The National Guard Rolls By: Gothamist