I've learned a lot about maintaining and fixing RVs from Mark Polk over at RV 101. This video is a pretty good introduction to RVs and camping, but it entirely misses FOUR very important RV categories you have to choose from when you're deciding whether an RV is right for you.
My experience with camping is rather different from Mark Polk's, so here is MY guide to choosing the right RV for you.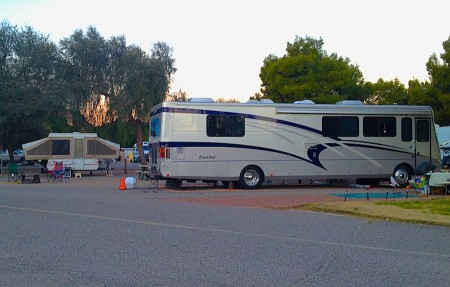 I believe in the Minimum Impact Method when choosing camping equipment. What that means is that your camping choice should have the least impact on your pocketbook and life when you're NOT camping. Here are ALL choices that I will be covering over the next week:
If you notice, the previous video mentioned NOTHING about camping in your car, teardrops, tent trailers or truck campers.
I will be covering the following benefits or negative attributes:
Cost: How much each kind of RV costs, both on the used market and new.
Storage: Where you can store this kind of RV and how much that would cost.
Mileage: How towing (or hauling) this RV affects your gas mileage.
Capacity: How many people can sleep in each RV.
Comfort: How well this kind of RV protects you from the cold or heat.
Effort: How difficult the RV is to set up and break camp.
Restrooms: Whether the RV has a restroom or not.
Safety: How safe it is to drive this RV.
Campsite Availability: How likely you will be to fit in a campsite or be allowed to stay at one with electricity and water.
Weirdness: How likely it is that strangers will come to your campsite and want to ask you about your RV.
The Walmart Factor: Whether the RV is welcome to dry camp at a Walmart.
I hope you enjoy the posts for the next week or so and I hope they help you decide what kind of camping is right for you.