When we are camping at a place with electricity, it makes cooking food so much easier. I found a bunch of all-in-one toasters that act as a coffee maker, tiny oven and cook top all in one.
This one is my favorite: Nostalgia Electrics 3 in 1 Breakfast Station.
Honestly, the reason I like it so much is because it's red and would match everything in my trailer. If I was going to get an appliance for cooking, though, I think this microwave is good too: Retro Series Microwave Oven at Amazon.com.
Even though it's not red, this Maxi-Matic EBK-200 Elite Cuisine 3-in-1 Breakfast Station 4-Cup Coffee Maker is smaller, so it would take up less room in the camper.
Here's another one that is black: Sunpentown Stainless-Steel 3-in-1 Breakfast Maker at Amazon.com
This one is a completely different take: Nostalgia Electrics Flip-Down Breakfast Toaster at Amazon.com. It's the size of a normal toaster with a flip down cooktop. Unfortunately, the toaster can't be used as a tiny oven, so it's not quite as good as the others in my mind.
The same goes for this one: Back to Basics 4-Slot Egg-and-Muffin Toaster at Amazon.com"/>. Sure, you can cook a couple of eggs while you toast bread, but if you'd like to make muffins or do something out of the ordinary, it's not as versatile as the others.
In the end, I haven't bought any of these. I make coffee with a hot plate (or propane stove) and teapot. This little single-burner hot plate has been the best appliance I've had in the trailer and it's so small and compact: Continental Electric 1100-Watt Singler Burner at Amazon.com.
I use it for any cooking I need done, planning meals that don't need toast or baking. Sometimes, I set up the retro crock pot to cook a meal the entire time we are out hiking, swimming or exploring.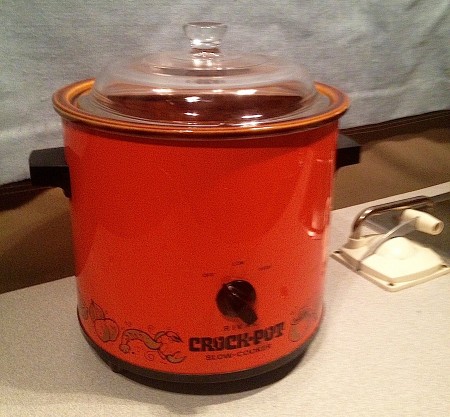 Of course, the reason I love that crock pot so much is because it's orange and matches my trailer decorations, but that is the biggest appliance I pack is the crock pot. All these others are very inviting, but I can't justify the space they would take in the camper, despite their multi-usefulness. But, dang, I like that red one at the top!