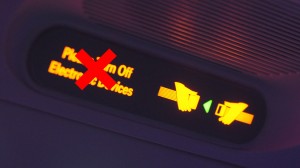 The FAA is allowing airlines to use electronic devices during ALL phases of flight! Here is the press release from the FAA:
The U.S. Department of Transportation's Federal Aviation Administration (FAA) Administrator Michael Huerta today announced that the FAA has determined that airlines can safely expand passenger use of Portable Electronic Devices (PEDs) during all phases of flight, and is immediately providing the airlines with implementation guidance.

Due to differences among fleets and operations, the implementation will vary among airlines, but the agency expects many carriers will prove to the FAA that their planes allow passengers to safely use their devices in airplane mode, gate-to-gate, by the end of the year.
Right now, we have to turn off any electronic devices during takeoff and landing, which are such short amounts of time that I never found that to be a big problem. My biggest problem with flying is the near strip search before we get on and sitting on the tarmac for SEVEN hours without food. Until they solve those problems, I'm going to hitch up the trailer and DRIVE it every time.
Via: FAA: airline passengers may use electronic devices during all phases of flight
Image via: Even a Real Pilot Thinks We Should Use Cell Phones on Planes