I was perusing the local classified ads and I found a really unique teardrop trailer.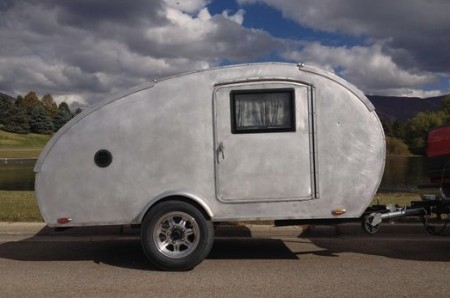 It looks like a normal teardrop until you see the "moonview" hatch in action.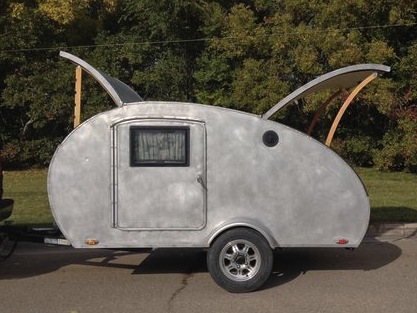 I like this feature, but I think it would be better with canvas, like a Wild Goose teardrop.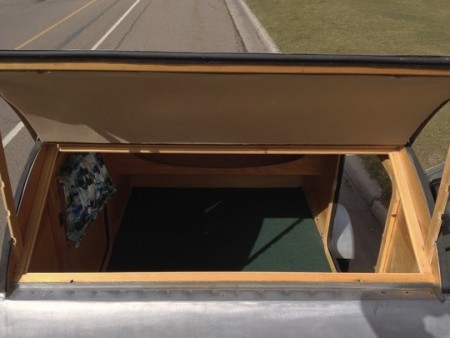 The galley is simple, which leaves you with an blank canvas to do with whatever you wish.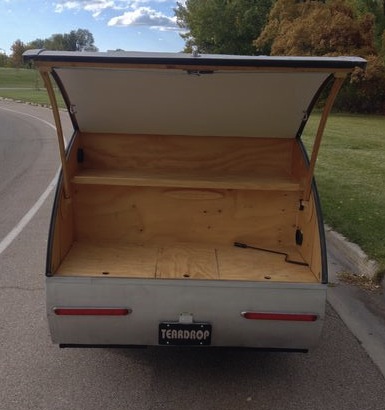 It looks like there was excellent craftsmanship put into this little trailer, but at $4500, I could buy a top of the line used tent trailer with more features than you can shake a stick at.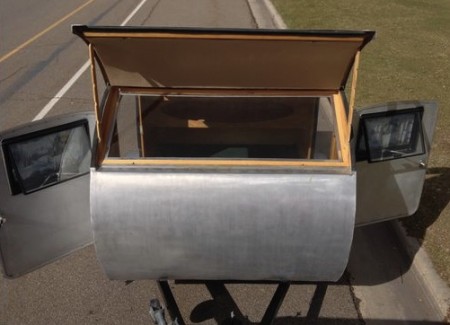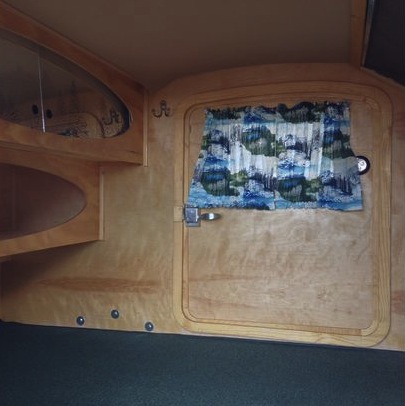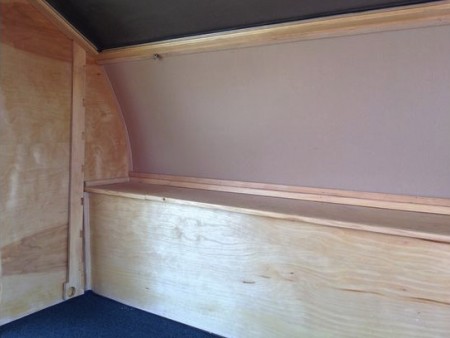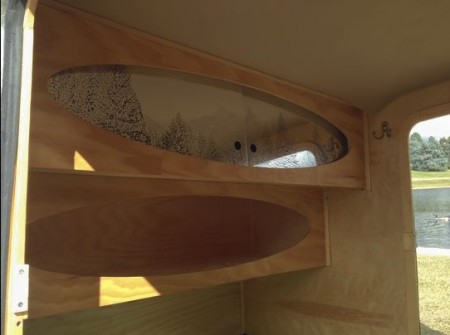 The ad goes into excrutiating detail about the features and build:
2010 Aluminum trailer in great condition. This Trailer was built by with true craftsmanship. He has worked with wood and metal for 50 years. The body was CNC cut and looks terrific and the plans were based off a 1940s Grumman Teardrop. One of the coolest options to this trailer, that I have not seen on any other trailer is the front Sky Window! When you lay down you have a view of the sky day or night and has several levels of height adjustments. This is truly one of a kind unique option to have on a Trailer.

I am amazed at how solid and well everything lines up and seats. Everything is very solid straight and sturdy. Just today I was pulling it out of my enclosed storage unit and two people stopped me and one guy was amazed when he saw my truck go through a dip and turn, how the trailer stayed so true and sturdy. Everything was bought new in 2010 and the materials alone cost around $3,000.00 and then countless hours, equipment, and knowledge that were put in to the build. Here are some of the specs etc…

Trailer weighs in at around 600lbs.

2000lb axle trailer with a one leaf spring removed for better softer ride.

1/8 inch Baltic birch wood.

Stainless steel screws

led lighting

insulated with R4 Styrofoam

Mag wheels

Built in stabilizer jacks on the back

Roll out windows on each side

Vented back area to keep the area cooler when it is being pulled

The body is really straight all around. The only minor blemish I see is a very small ding on each side where the windows can tap it, if they are open and the door swings all the way out. There is a vent on the back of each side of the trailer and these were put in to keep the back area cooler when traveling. So if you have a cooler back there the air traveling through keeps it cooler. One vent is higher than the other for that particular reason. There are three pieces of wood in the back that pull out and you can store things in that area. The wood in the back could be cleaned up a little bit, just has some scuffs from things being stored on them. This trailer is great all around and is a one of a kind and very well built. Just look at the pictures yourself. There is no title to the trailer because in Utah we do not need one unless it is 700lbs or more and is a travel trailer. This is considered a utility trailer and is under 700lbs. If you want to get one, I would think your dmv would issue you one. It has a vin# on the side of the frame. All you have to do in Utah is bring it to the dmv and they will inspect the vin plate and give you a title if you want one and pay for registration. There is no battery or gas hookups. You can use a propane stove for cooking and cooler that will sit in the back. I also use led battery operated lights inside.