This video is EXACTLY why I love my tent trailer and would rather stay in it than a hotel room.
Here are Chuck's reasons RVs are better than hotels:
You load your luggage once. No packing and unpacking in each city you stop.
You have your own closet and sleep in your own bed.
You have your own stocked refrigerator, not a mini-bar with overpriced items in it.
You can cook healthy meals in your RV and save money.
You know who slept in your RV bed the night before.
Your RV is cleaned by you, so you know how clean it is: no bed bugs, strange bodily fluids or uncleaned glasses.
Hotels are not always near the places you want to visit.
No elevators or long hallways to negotiate with luggage. Just pull into your spot and go.
You meet cool people at campgrounds.
Campfires!!
RV campsites cost less than hotel rooms and are sometimes free.
This is a great list, but it's kind of skewed toward luxury RVs, which are EXPENSIVE!!
We have a tiny tent camper with no bathroom or fridge. You can see it in this photo compared to a large fifth-wheel next to it: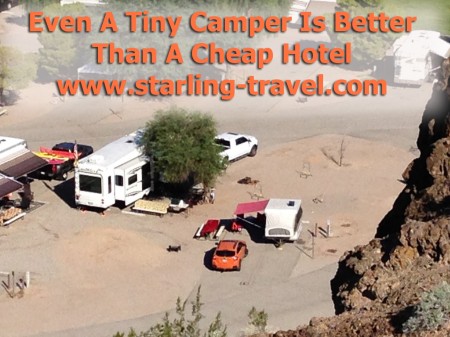 How does it compare to a cheap hotel room?
EVEN BETTER! Here's why:
Easier to park than a huge camper. We literally can ROLL it into the campsite by hand if we need to.
A spot near the campground bathroom is WAY better than emptying a black water tank.
We only spent $1200 on the camper two years ago. No payments. Those inexpensive campsites really do cost LESS than a cheap hotel room because we didn't pay a ton of money for our camper.
We can still sleep in our own bed and cook our own food.
We get 25 mpg with our car pulling our tent camper, so gas is as cheap for us as it is for a hotel traveler.
I have no desire to go back to hotel traveling. Whenever I have to stay in a hotel, I feel put out and miss my little tent trailer. If you feel as if camping in an RV is roughing it, you have the wrong idea. If you WANT to rough it, then I understand how sleeping in an RV might not feel right, but if you just want to travel the country and enjoy beautiful views, then an RV is the best way to go.