I found this advertisement in the April 1970 National Geographic.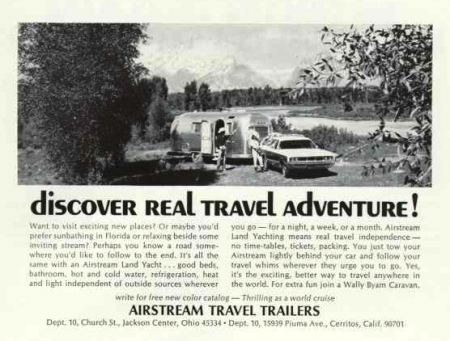 It reads:
Discover Real Travel Adventure!

Want to visit exciting new places? Or maybe you'd prefer sunbathing in Florida or relaxing beside some inviting stream? Perhaps you know a road somewhere you'd like to follow to the end. It's all the same with an Airstream Land Yacht… good beds, bathroom, hot and cold water, refrigeration, heat and light independent of outside sources wherever you go – for a night, a week, or a month, Airstream Land Yachting means real travel independence – no time-tables, tickets, packing. You just tow your Airstream lightly behind your car and follow your travel whims wherever they urge you to go. Yes, it's the exciting, better way to travel anywhere in the world. For extra fun join a Wally Byam Caravan.

write for free new color catalog – Thrilling as a world cruise.
That is exactly what I love about camping in my tent trailer. I don't have that bathroom or refrigeration, but I do have that freedom. There are so many campgrounds with hookups that I feel as if I can travel anywhere with my camper.
Before I read this ad fully, I had never heard of the Wally Byam Caravan Club, but apparently they are still around:
They have many rallies where they get together. In my region alone, there are four rallies planned this summer. I'm seriously impressed that they are still around and getting together. Unfortunately, I would have to buy a $40K camper to join them, but I am encouraged that they are still around.