I learned a long time ago that walking through people's campsites is rude. I learned it from an angry man with a diesel pusher in Quartzsite who screamed at me for walking through his campsite on the way to the bathroom. The campground had no pathways to get to the bathroom. The only way to get there from my site was a quarter mile walk around the campground. It was a choice of .25 miles or ten feet through his site. I chose the logical route and the diesel pusher was quite angry with me.
If you check various websites, it IS considered rude to walk through other people's campsites.
If you read blogs, there are plenty of people willing to expound on how RUDE it is to walk through people's campsites.
The thing is, all of that is entitled baloney.
There are some campgrounds where the ONLY way to get to the bathroom is to walk through someone's campsite. There are some campgrounds that are so cramped and crammed full of tents and campers that there is no way to tell where someone's campsite ends and another begins. There are some campgrounds that are so massive that the only way to walk to the bathroom is a quarter mile detour. Sometimes, people set up so much junk in their campsite that they are infringing on your area or even the walkway between sites.
You do NOT own the land you paid for. We are all sharing the campground and like it or not, you're in the open. Your items are not secure. People WILL walk through your campsite and you insisting that you own that swath of land is the rude behavior, not people trying to get to the bathroom after a long and cold night.
Last June, we stayed at a wonderful campground in Moab that was BEYOND crowded.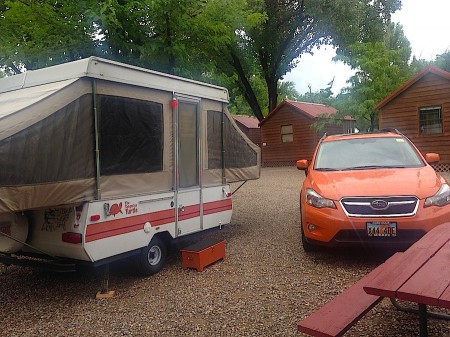 What you can't see from this picture is the campers on the other side of us and almost abutting the picnic table. What you can't see are the band of hippies washing their dishes right behind me in the bathroom facility. While we camped there, people walked through our campsite all day and night. You can see how cramped it was. The people in the cabins walked between our car and my boy's bunk end all day and night. The only way to walk to the bathroom without going through someone's site was to go all the way around, which was at least 50 yards.
Did I scold every person walking through my site? Did I set up all my cute turtles, table cloth, camping chairs and tables? Did I seethe with anger every time someone "trespassed" on my site? Did I fume about how RUDE people are and don't they know that I "own" this property and they should go around?
No.
I had a fun vacation. I talked with the hippies. I said a nice hello to everyone walking past. I tried to calm my fears whenever I heard someone walking right past my bunk end in the middle of the night.
The simple fact remains that sometimes we are all camping in a very cramped campground. Learning to accept that people will be walking through your site will make your camping experience more enjoyable. Insisting that people are trespassing on your property will make it miserable for you. You can't control other people. ACCEPT that fact and your camping experiences will be much more pleasant.