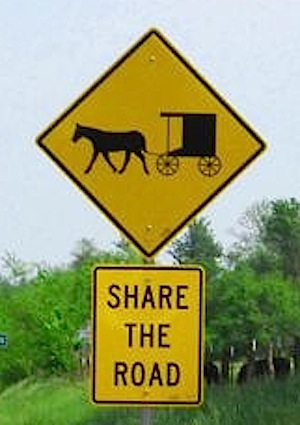 Mike and I saw the sign at the same time. I said,
"Share the road? With what? The Amish?"
We laughed and Mike pulled out his iPad to do some research.
"Umm… yeah."
"Yeah, what?"
"We need to share the road with the Amish."
I suddenly felt like I was in a strange land. There was a possibility that I could actually see Amish people driving horse-drawn buggies, just like the movies. And I did! I finally understood how all those tourists who come to Utah to see the Mormons felt. They're just people. They might wear funny clothes (or underwear), but in the end, they're people just like us.
I had no idea that with the Amish comes really good cheese. We kept seeing billboards for the Osceola Cheese Company. The giant mouse on the billboards enticed Mike, so we stopped there. I'm so glad we did. (Continue Reading…)