John Green visited London and posted this brilliant video about it.
John had an interesting experience at the "British Museum of Old Things And Other Miscellany."
And then I found this thing, which for some reason I found really fascinating, so I looked at it for a long time from many different angles and I still couldn't figure out quite what was going on. So, I read the wall label where I learned that the guy was apparently about to stab himself in the penis, but, more importantly, I noticed that the thing that I was looking at was currently on loan to the Royal Museum of Ontario, and, while I was reasonably jet-lagged, I was pretty sure that I was NOT in Toronto.

So, in fact, I was not looking at a thing at all. I was looking at an incredibly well-made photograph of a thing installed so perfectly that I'm not sure that you can tell that you are looking at a video of a photograph of a thing rather than a video of an actual thing. Which calls into question the whole relevance of looking at actual things when virtual experiences are so compelling, but more on that in a second.
He had a busy day, trying to walk off his jet lag and at the end, he viewed the beautiful London Bridge in the dark.
I found myself wondering how different it was from a photograph. I didn't need to be here to see this, after all. Of course, the reason for our trip was [to speak to his fans], but after thirty hours awake and the optical illusion at the British Museum, I couldn't decide if sites really need seeing or if virtual experience has become enough. And I still can't decide, so I made this virtual experience for you. Let me know how real it feels.
What do you think? Is the virtual experience enough? I haven't found that to be true. I'll never forget my visit to the Legion of Honor Art Museum in San Francisco. They had one of Monet's water lilly paintings at the end of the gallery.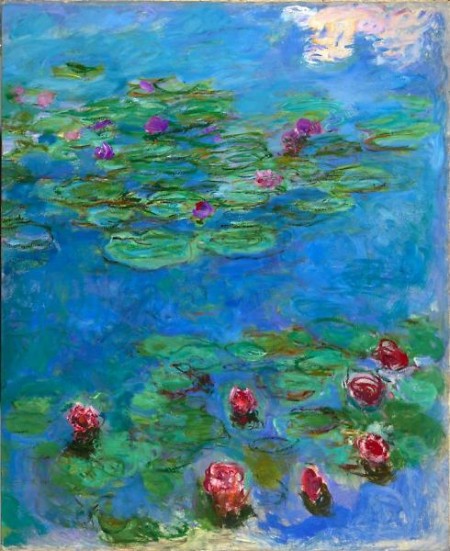 If you could see an even higher resolution version of it, you would still not be able to fully understand the magnitude of this painting. I had seen this painting hundreds of times in books before that fateful day in San Francisco, but I was never able to grasp its grandeur.
The painting was at the end of a huge hall and took up the entire wall at the end of said hall. When I stood at the furthest point, the water lilies were clear as day and the water looked almost transparent. I felt as if I could reach into the water and snatch out a fish with my bare hand. My viewing point was at least twenty yards from the actual painting.
When I walked up to it, I felt dwarfed by its size. I suddenly understood why this Impressionist had been rejected when he had his first show. Such a behemoth of a painting would have been impossible to see in the cloistered art galleries of France. Up close, Water Lilies looks like a globular mess of thick paint in huge patches of color.
To give you an idea of its size, here is a photo of paintings conservator, Tricia O'Regan, removing the synthetic varnish off it in 2011.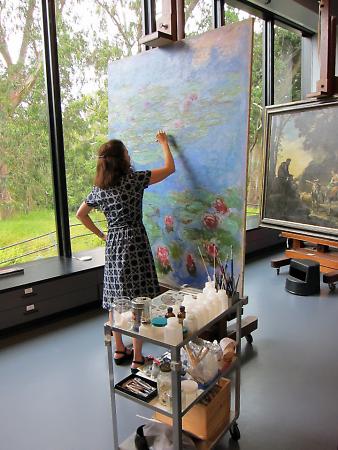 So, was my virtual experience of Claude Monet's Water Lilies (seeing it in books) as good as seeing it in person? NO! NO! A thousand times, no! And the saddest part of all is that I didn't KNOW that I had been missing the whole story until that moment when I walked so close to the painting that it transformed from a beautiful pond of lilies into a clumpy mess of paint.
THAT is why travel is so important to me. You can't smell the River Thames in John's video. You can't feel the cobblestones under your feet while you see what remains of Winchester Palace. And you certainly can't fully view the magnitude of Monet's Water Lilies in a book. As detailed as they are, virtual experiences are not nearly as engaging as seeing everything first hand. Until they are, we will need to travel to enjoy them fully.