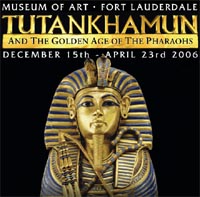 When I was a kid, a King Tut exhibit came to the United States. I think it was the first time that I had heard about archaeology. I didn't get to see that exhibit, so when I heard that King Tut was back in the United States, Mike and I planned a trip to go see him in Los Angeles.
Was the trip worth it?
Yes, but not for the reasons you might think.
The actual pieces from the King Tut excavation are limited compared to the exhibit in the 1970's. Aside from two pieces, everything could fit in a breadbox. They did bring some of the stunning jewelry that came from the mummy, but the truth of the matter is they brought so few of the spectacular specimens that were found at that dig. If you are obsessed with seeing King Tut's treasures, you would do better to go to the King Tutankhamun Museum at the Luxor Hotel. They are replicas, but you get to see so much more.
That being said, this exhibit is totally worth the cost of admission and the struggle of trying to see it through the throngs of Catholic school children. They brought some spectacular pieces from other graves and ruins. Before King Tut, the most impressive grave that had been found was that of Queen Tiye in 1904. There are many pieces from that collection and they also added some of the most impressive artifacts found in the ruins of King Ankenaten's glory. My favorite piece of the entire exhibit is the five foot tall head of Ankenaten. It sat high above us, lit from all angles.
The importance of seeing the pieces from Tiye's grave is clear when you compare similar pieces from hers to King Tut's. For example, the model boat in Tiye's grave was damaged and had been pieced back together by the archaeologists. The model boat found in King Tut's grave, however, was in almost perfect condition. Seeing those older pieces was essential in showing how preserved King Tut's grave had been.
Even though there were only 50 pieces from the actual King Tutankhamun grave, this exhibit is well worth the over two hours it will take you to go through it.
Now, King Tut is going to Florida:
I'm glad I saw it when it was on this side of the Mississippi.