This article had such a great name that I was drawn to it. My spoiled inner child has lots of fantasy trips that she would like to visit. What could Fodor's give her?
Not much, apparently. Each of these trips are EXPENSIVE. I guess when they say "Fantasy" they actually mean "Pricey." If I were to let my inner child run free with her fantasies, she would come up with a far different selection of trips:
The Daydreamer:
I love to sit in a busy cafe when I am in the mood to daydream. I love to take a sketch pad and try to draw the people around me or maybe my Moleskine and just write whatever comes to mind. In Salt Lake City, Utah, the best cafe to sit and people watch is a toss up.
Any Barnes & Noble: I like to buy a tea and sit in the cafe section, watching the people. Sometimes I make up stories about them in my head. Other times, I grab a book off the shelf that I would never deign to buy and read it. Address: Various Cost: $5-10 for tea and refills.
SouthTowne Mall Foodcourt: The busiest mall in the Salt Lake Valley is SouthTowne. If I can find a seat at the foodcourt, I can sit there all day watching the people. Sometimes I get a diet soda from one of the vendors, other times I just sit there without need for any more refreshment other than the loud and excited activity bustling around me. Address: 10450 South State Street Cost: $5 for a soda.
The Spy:
My favorite spot in Salt Lake City to pretend I'm a spy is the LDS Temple grounds. I'm not LDS, so there are areas of that tourist site that I am not allowed. The temple is available to only Mormon members in good standing (they need to have a Temple Recommend). Skulking around the temple grounds and trying to catch glimpses inside the temple itself makes me feel a little like a spy. There is always the question about what they do in there and the rumors among the uninitiated run rampant. Ask a Temple Recommended Mormon and they will tell you nothing. A visit to the LDS Temple is a venture in finding out the secrets that Salt Lake City has to offer. Address: 50 W. South Temple Cost: Free (unless you sign the visitor's book and then you'll get visits from the LDS Missionaries at great cost to your time and maybe soul).
The Diva:
The Utah College of Massage Therapy will treat you like you're a queen, but only on Saturday and Sunday between the hours of 8:00 am to 5:30 pm. If you are willing to wait until the weekend, you can get a massage from one of their students for CHEAP. You can be a diva that saves money. Address: 25 South 300 East Cost: $25 for a 50 minute massage.
The Nerd:
The best place to nerd it up is Sam Weller's bookstore. They have a simple selection of new books (Barnes & Noble will beat them every time), but the true beauty of this store are the used sections. There are used sections upstairs and downstairs. The hallways can be a little canavernous, so if you have claustrophobia, stay in the more open sections. Otherwise, you can dig through the tomes of the past to your heart's content. Address: 254 South Main Street Cost: Free, unless you buy a book.
The Architect: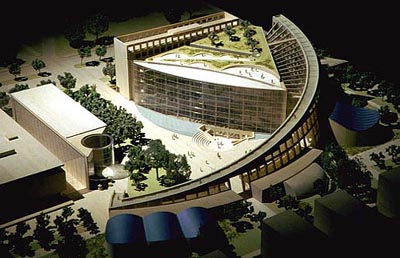 Our most stunning piece of architecture in Salt Lake City is the new City Library. The inner child that played with Lincoln Logs can take a walk up the incline of this building. There is art inside for you to peruse and the vistas from the walls of glass are stunning. Enjoy the park area at the top of the building and the fountains at the base. Address: 210 East 400 South Cost: Free, even when you borrow the books!
If I can compile this list about my hometown, I'm sure you can do the same. Sure, the Fiji islands may appeal to the inner child in you, but some time people watching at the best local sites might do the same. Your inner child doesn't need to spend a lot of money to enjoy itself. You just need to give yourself some time.