Continuing our series on small pleasures in Las Vegas, here's one way to have some fun near Vegas without losing your shirt. The Ethel M Chocolate Factory and Cactus Garden is located in Henderson, Nevada, about 10 miles from the Vegas strip. While chocolate and Cacti don't have much in common, fans of either one will find something fun here.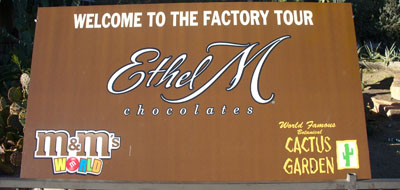 Let's start with the chocolate: Ethel M Chocolates, the fine chocolate maker owned by Mars, Incorporated, makes many of their chocolates here. The factory tour consists of a long hallway with a window that lets you look in and see chocolates being made, and signs on the wall that document the process. While it's bound to be a disappointment to anyone who has seen "Charlie and the Chocolate Factory," it is worth a look—and the free chocolate samples are nice too.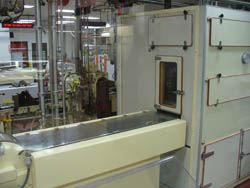 As you might expect, you'll also find an Ethel M gift shop at the end of the tour, offering a complete selection of their chocolates. Since Mars, Incorporated also makes M&Ms, they've recently added a smaller shop that offers M&M candies in a rainbow of bulk colors and M&M-related toys and knick-knacks.
Now on to the cacti. When I first heard of this garden, I didn't expect much—after all, it's near Las Vegas, and owned by a chocolate company. I expected a few withering plants in pots surrounded by cheesy statues. Fortunately, I was completely wrong—as it turns out, this is one of the world's largest cactus gardens, with over four acres of cacti, succulents, and other drought-tolerant plants.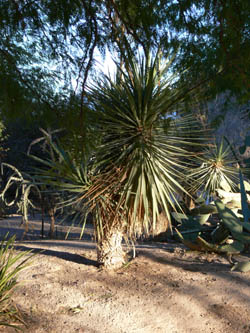 It would probably take about 20 minutes to walk through every path in the garden at a brisk pace, but you can easily spend an hour or two looking at the plants. All of the plants are well-kept, and each is labelled with its common and scientific names. While you'll see the same Joshua Trees and Teddy Bear Chollas that line the freeway on the way to Vegas, there are also many different species native to the Western US, Mexico, and even Africa.
If you are lucky enough to see the garden when there isn't a tour bus or school field trip there, you might see wildlife among the plants—we've seen several rabbits and a kangaroo rat, along with various birds.
The back end of the garden is a water treatment facility they've dubbed The Living Machine, which uses various tanks filled with bacteria, snails, plants, and fish to process the chocolate factory's waste water. The treated water is used to create an artificial wetland and fish pond, and the pond water is pumped out to irrigate the cactus garden. The cactus garden paths lead to a tour of the water treatment area with informational signs.
The Ethel M Cactus Garden is a great way to spend a couple of hours near Vegas, and doesn't cost a cent—unless you spend $30 on chocolate like we did. It's also a great place to take pictures.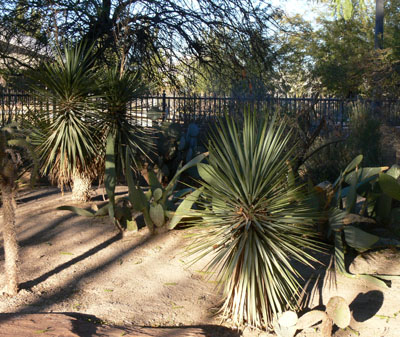 Directions: From the Las Vegas Strip, turn East on Tropicana, then South on Mountain Vista, then East on Sunset. Turn in to the parking lot (Cactus Garden Drive) about one block down Sunset on the left.
When to see it: While Vegas never gets snowed under and the garden is open year round, the cacti will be at their best in the Spring and Summer. Spring is best, since many of the plants will be flowering and the temperature is comfortable. If you come in summer, bring water to drink, a hat, and sunscreen—you are in the desert, after all.