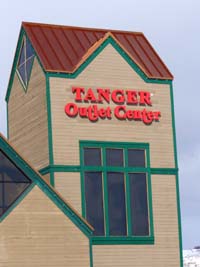 Park City is filled with upscale clothing stores, ski equipment shops and galleries. If you go to the outskirts of the city, however, you'll find the Tanger Outlet Mall. It seems that every major metropolitan area has outlet shopping, this is the one for the Greater Salt Lake Area.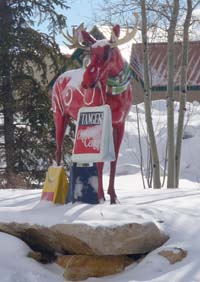 These factory stores, however have the Park City feel to them. The design of the buildings conforms with the codes of the city, so it feels a little more rustic than a generic outlet mall plopped onto the landscape. It seems to fit in with the atmosphere. It sports its own Park City Moose, complete with shopping bags and colorful regalia.
Click here to see the store listings and directory:
Location: 6699 North Landmark Dr. Park City, UT. Right before the I-15 freeway entrance.
Link to the site on Google Maps:
When To Shop: Avoid "Back To School" time and Christmas if you dislike crowds. It does get a little busier in the winter and during the Sundance Film Festival, but not as bad as right before the school year starts. They are open Monday – Saturday 10:00 am to 9:00 pm and Sunday 11:00 am to 6:00 pm.