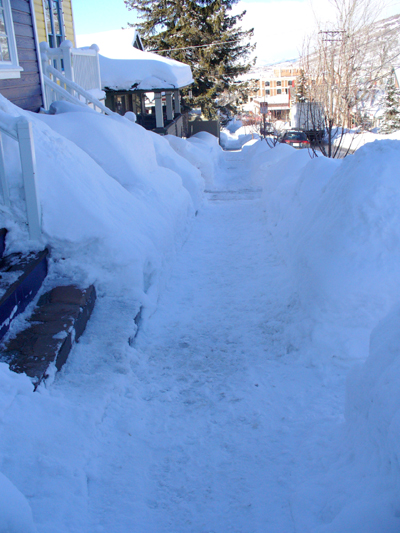 The snow is crunching noisily under my feet. I'm not wearing the appropriate clothing. I have no long underwear under my jeans. I am wearing four inch heels instead of boots. I forgot to wear a hat or earmuffs to keep my ears from turning red and popping off my head. Miraculously, I remembered gloves. I'm cold, but I'm smiling and happy.
I am walking up Park Avenue because we parked at the Library. The Park City library is one of the venues for the Sundance Film Festival, so I wanted to get a picture of it, but I also wanted to avoid the crowds and traffic on Main Street. Once the festival starts, the library parking will be as bad as every other day, but last Monday, we were safe to park there.
I'm shocked to see skiers. I don't know why this shocks me, but Park City has always been a summer town for me. Mike and I go up there to ride our mountain bikes. There are active people around, but mostly, we have the place to ourselves. It's so different in the winter. It's packed with people in ski boots and goggles. I want to take their picture. I want to point at them and whisper to Mike, "Look, Mike, there are some more skiers."
My personal resort is suddenly full of ski bunnies and snowboarders. I keep telling myself that Park City is a ski town. Those lifts that take me and my mountain bike up the hill were built for skiers, silly. Still, everything looks a little strange to me. I feel like I've been dropped into a completely different town.
We cross over to Main Street and the area explodes in great smelling food. I can smell coffee and cream and fish and beef and something being grilled over fire. My nose is tested trying to discern the different scents surrounding me. I want to eat, even though I'm not hungry. All the aromas surrounding me are tempting. I settle for some hot tea and we continue our walk up Main Street.
It's the same walk we have taken dozens of times during the summer, but it's different. There are excited people everywhere. The shop owners are on their best behavior. The condo sellers are so busy that they don't have time to stand outside the door beckoning us to come in. Everything is covered in a thin veil of snow that obscures signs and makes the entire street look softer.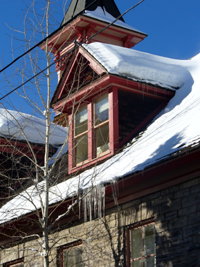 On the walk back to the car, we take Park Avenue instead of covering Main Street again. We pass the Washington School Inn and reminisce about the last time we stayed there in August. It looks so different with the icicles hanging off the roof. The view out the window of our room would be so different today than it was in August. I wonder what the hot tub feels like after a cold day skiing. It felt wonderful after the long hours on the bike.
We pass the residential homes and see one for rent. "$1400 a month 2 bed 1 bath," the sign reads. After looking at housing costs in San Diego, the price seems like a steal. The idea of living with this much snow and with the Sundance revelers seemed a little too much for me. I prefer the quiet solitude of my home in the valley and I gladly walk past the quaint home for rent.
By the time we get back to our car, my ears are bright red. I turn the heat on full blast and enjoy the dry warmth. Just taking a walk along the streets of Park City is fun. No money required.