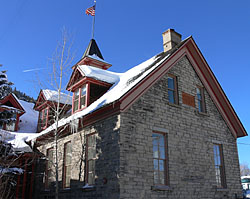 We're writing about Park City, Utah this week as people from all around the world will soon arrive there for the Sundance Film Festival.
The Washington School Inn is a small bed and breakfast inn in a converted schoolhouse. While they're already booked for Sundance this year, any other time it's a great place to stay in Park City.
The Washington School was built as a 3-classroom schoolhouse in 1889. In 1985, it was renovated and became the Washington School Inn. It's a historic building listed on the national Register of Historic Places.
The Inn has 15 rooms, including three deluxe suites. Each room has a private bathroom. The rooms have numbers as well as names like "Ms. Hedges" and "Ms. Reese". Each is decorated in its own way and, if you're picky, you can look at pictures of each one and choose your favorite.
Having grown up reading mystery novels, this seemed to me the sort of place where a Murder Most Horrid would occur, leaving the innkeepers and the assortment of eccentric guests as suspects. Fortunately, when Laura and I stayed there for two nights last fall, I'm pleased to report that nothing untoward happened.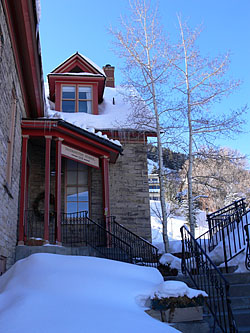 The staff there is incredibly friendly, and after two nights we felt like we were at home. Breakfast is served daily and was a very impressive selection, all homemade and far from the typical hotel breakfast. Snacks are available in the evening and were usually very tempting and very fattening.
Parking is available across the street for guests, which is nice when the city is crowded. If you're skiing, they provide lockers in the basement to store skis and equipment. The owner was happy to let us park our bicycles in the garage next to the Inn.
Amenities include a nice hot tub, sauna, a shared mezzanine area with TV, a library of books to read, and a beautiful outdoor garden area with chairs and tables. It might feel like an anachronism in this quaint inn, but high-speed wireless Internet is available at no charge for guests.
Park city's historic Main Street is a very short walk from the Inn, so there are many restaurants, shops, and art galleries you can explore without driving. Ski lifts are also close, and Park City's many mountain bike trails can be reached easily on bicycle.
Prices are about what you'd expect for a luxury hotel in a resort town, but quite affordable in the less busy times of the year. Rooms start at $120 April through November, with higher rates during ski season ($265) and even higher rates during the Sundance Film Festival ($320).
Whether you're looking for a romantic getaway or just a cozy place to sleep in between ski runs or bike rides, The Washington School Inn is a great place to stay.
Location: 543 Park Avenue, Park City, Utah. The Washington School Inn is one block over from Park City's Main Street (old town) and near the Town Ski Lift.
When to Stay: Winter if you enjoy the scenery or skiing and don't mind the prices and crowds; Summer or Autumn if you prefer lower rates, great weather, and your choice of nearby uncrowded restaurants and shops.
Official Site: Washington School Inn