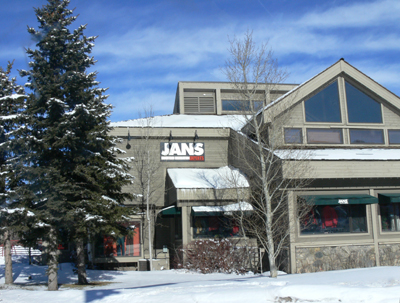 So, you decided to extend your stay in Park City after the Sundance Film Festival? If you didn't plan on staying, you might not have brought your skiing or snowboarding gear with you, but you can rent it at Jans Mountain Outfitters.
Mike and I don't ski, so we can't tell you if the prices were good or not on ski equipment, but when we went in there for some green goo to fix a mountain bike flat tire, they were more than helpful. Not only did we get the green goo, we got a free map of trails of the area and friendly advice from the employees. We were really impressed with them and there was none of that elitist attitude that some mountain bike stores can have.
Jans Mountain Outfitters have two locations:
540 Main Street Park City, Utah Google Map Phone: (435) 655-3032
This location is on the main strip in Park City, so it's easily accessible, but it is a small store and didn't have what we were looking for.
1600 Park Avenue Park City, Utah (pictured above) Google Map Phone: (435) 649-4949
This location is huge, but it's a little further from the Park City action. It had everything that we needed to equip our mountain bikes and be on the way.