While Mike and I were in Austin, we were able to get this video of the bats coming out of the Congress Avenue Bridge. March is early in the season for the bats, so the sky wasn't black with them, but there were still a lot of them to be seen. We saw three waves of bats leave the bridge. This was the second one. The video is 1:11 minutes long.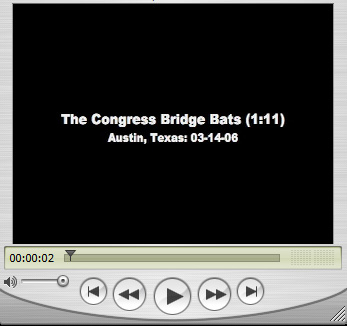 There was a crowd of people under the bridge waiting for the bats to come out. A lady was jogging along the trail and asked us what was going on. We told her about the bats and she just shrugged and kept on jogging. I wonder if she thought there was a mugging or something. We were all there waiting with our cameras. I'm shocked I was able to get anything at all.
What didn't show up on the video was the sound the bats made and the smell of the area under the bridge. It took me a while to recognize the smell, but I realized that it smelled like a hamster cage. The sound was just like the movies. I thought the movies made up that sound and bats only made ultrasonic noises, but they don't. There is a high pitched sqeak, kind of like a mouse, that we could hear everywhere under the bridge.
It was amazing.