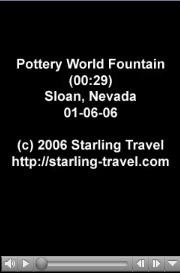 Not too long ago, I did a story about Pottery World just outside of Las Vegas, Nevada.
Starling Travel » Small Pleasures Week: Pottery and Patio World
At the time, I took some video of this fountain. Unfortunately, it was filmed "sideways" and I didn't have the correct software to rotate it. Thanks to what I learned at SXSW, I have finally been able to remaster this 29 second video for your viewing pleasure.
When I filmed this video, it felt like light itself was spilling over the sides of the fountain. The chilly wind whipped around my hair, smelling like dirt and rain. In the background, the owners of Pottery World were playing Mexican music and I felt so at peace. Pottery World was truly a visit of small pleasures that week in Las Vegas.
---
Where: Google Local – Sloan, Nevada