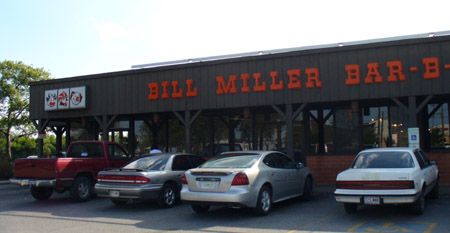 Scattered across San Antonio, are the humble Bill Miller BBQ restaurants. They are a casual oasis of BBQ that beckons to me at every few street corners. We finally stopped at Bill Miller to see if it was all that Texas BBQ was supposed to be.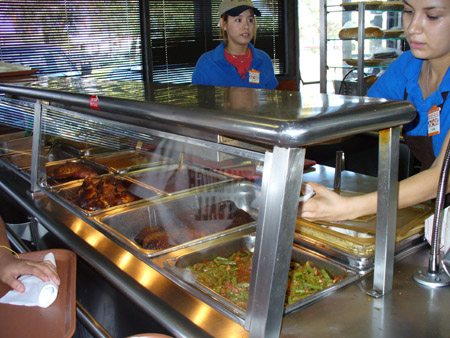 I was told long ago that the hallmark of good Texas BBQ is that they cook the meat without sauce and let you add the sauce to your liking. That's exactly how they did it at Bill Miller. I had a piece of brisket and some chicken. Both were tender and moist before we used any of the sauce on it.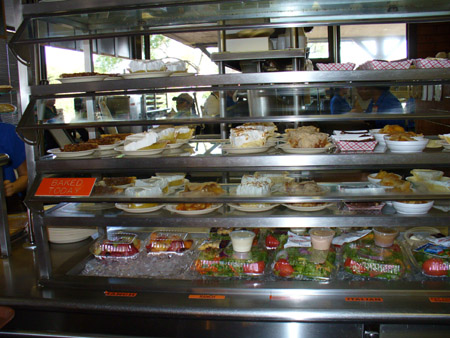 For me, though, it's all about the sides. I can't eat too much meat, but I can enjoy good bread, potato salad and coleslaw all day long. Fortunately, Bill Miller BBQ had enough of those as well.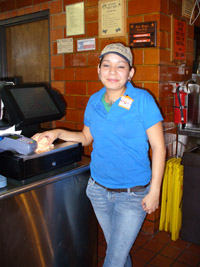 Bill Miller has a bakery where fresh pies are baked every day and brought to the stores. We had a choice of at least three different pies. When there is that much variety, it's hard to choose just one. We had two and stole bites from one another's.
After I had loaded up on food, the service was efficient and friendly. They served us up what we wanted and checked us out quickly so we could eat it. I really liked that I could just go through the line, get my food quickly and immediately go to my table to eat. It smelled so good, I don't think I could have waited for traditional sit-down service. Luckily, they served cafeteria-style, so I didn't have to wait any longer than it took me to get through the line.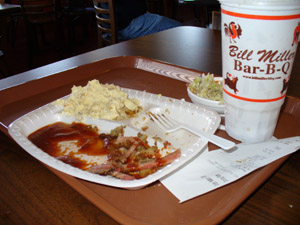 In fact, I couldn't wait. I forgot to take a picture of my food until it was all gone.
Want to know the best part? It was cheap. For both Mike and I to eat, it was around ten bucks. We had more food than the two of us could eat plus dessert and we only spent around ten dollars. They have locations in San Antonio, Austin and Corpus Christi. If you find yourself in Texas, make sure you try out Bill Miller's BBQ. You won't be disappointed and you'll be surprised how much food you get for your buck.
---
Where: Bill Miller BBQ
P.O. Box 839925
San Antonio, Texas 78283-3925
Phone: (210) 225-4461
Fax: (210) 302-1533
E-mail: hq@billmillerbbq.com
Restaurants all over San Antonio, Austin and Corpus Christi:
San Antonio: Google Map
Austin: Google Map
Corpus Christi: Google Map