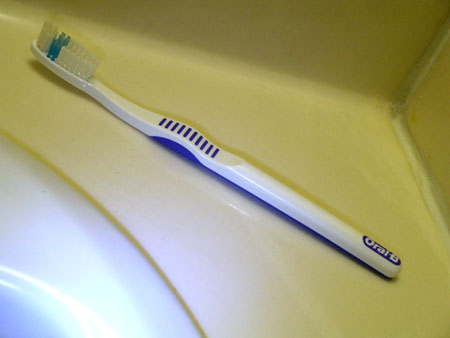 I keep a travel bag that is fully stocked with all my toiletries in travel sizes, but I don't keep a travel toothbrush in it. I use the Oral B Indicator Toothbrush. Because the toothbrush stays in the travel case, it doesn't get used as often as my normal toothbrush. In fact, I have a hard time telling how often it has been used without getting out a calendar and marking off the days I'm out of town. That rule for changing your toothbrush every three months can't really apply to a toothbrush that only gets used three or four times a year.
So, I let the Oral B Indicator Toothbrush tell me when it needs to be changed.
When I saw the original commercial for this toothbrush, I thought that it was just a silly addition to the toothbrush wars. I didn't even consider that the blue band of bristles that eventually wears to white was a worthwhile feature in a toothbrush. I just change toothbrushes like clockwork, but my travel case is different. Now, that blue band of bristles is the perfect indicator to tell me when I need to change my brush. It has put this toothbrush on my list of travel essentials.
Here is the original commercial for the Oral B Indicator Toothbrush, just in case you're unfamiliar with it: