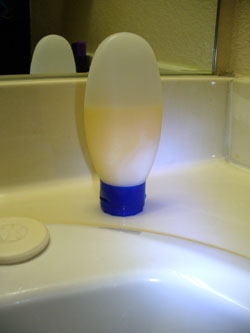 Another essential for my toiletries travel case are the Sprayco Soft Touch Dispensers. I found these at Wal-Mart. They aren't available through Amazon.com, but I was able to find them at a site called Organize.com:
Organize.com – Tube Dispenser – Refillable 4 Ounce Size
These have been the BEST refillable travel bottles for the following reasons:
They sit upside down, so the shampoo, lotion or conditioner is easy to dispense. There have been so many times when I have been in the shower, pounding a bottle just to get a pea size bit of shampoo out. With this one you just flip open the top and squeeze. If nothing comes out, it's empty.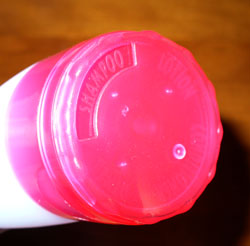 They have an adustable indicator to distinguish what is in each bottle. You don't have to remember that the red container holds shampoo, it just tells you. When I bought these, I worried that the indicator would slide around and tell me it's something different than what it contains, but after a year of using these, I have never had that problem. They kind of click into place, so they stay in place, even when they are bouncing around my toiletry bag. I used to go to the trouble of putting labels on my travel bottles, but now I don't have to.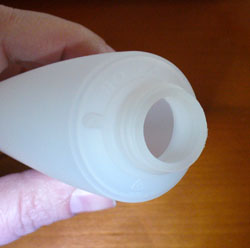 They have a wide opening for easy filling. Some travel bottles have such an inconvenient opening that filling them is an exercise in frustration. It used to be so bad that I would just throw the full size bottle in the suitcase instead. Now, it's just an easy squeeze into the mouth of this travel bottle.
I found these at Wal-Mart, but I have also seen them at Von's Grocery and Smith's Grocery. They might be a little difficult to find, but they are worth it. I haven't had to worry about my travel toiletries since I found these bottles. That's why I consider them a travel essential.