We have been staying in Yellowstone for the past couple of days collecting more photographs and video clips than you could shake a stick at, but we couldn't save this one until we got home. We saw a huge group of people stopped at the side of the road yesterday. That usually means that there is something interesting to look at. It also usually means that the safest thing for us to do is to drive away slowly because there is always somebody getting too close to the wildlife.
In this case, everyone was gawking at, photographing and rushing across the street in front of cars to see a black bear. They are so rare in Yellowstone these days that it was well worth my time to stop. Since there was a large river between us and the bear, I even felt safe enough to get out of the car.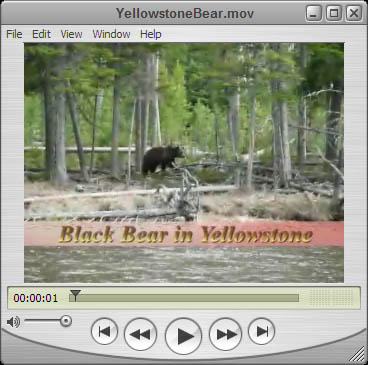 There had been two bears feeding on the carcass of another animal, but this one had eaten enough and was leaving.
This wasn't the first time I've seen a wild bear in Yellowstone, but this was definitely the best. I felt safe because it would have taken him a while to get across the water, so I could retreat to my car if I needed to and he was completely unimpressed by us.
I'm so lucky to see a wild bear in Yellowstone and even luckier to be able to share it with you.
Update 05-02-07: I've added this map to show you approximately where we saw the bear. He was midway between the West Entrance and Madison Junction.
We actually couldn't see what he was eating. It looked furry, but it could have been a rotten log full of bugs or anything, really. It was hidden behind a large tree.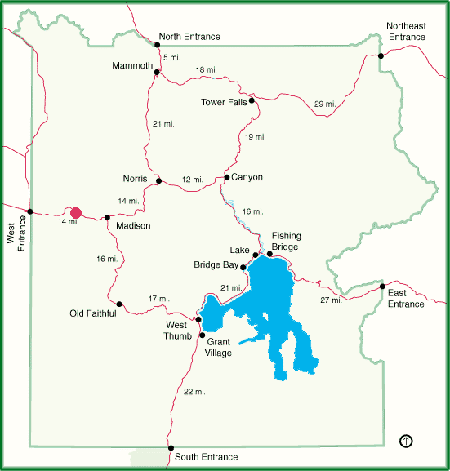 See tomorrow's entry for Michael's photos of the bear. He was able to zoom in on his pictures and get a lot closer than I could with my video.
Update 05-04-07: We initially called this a black bear, but it appears to be a grizzly. Learn how to tell the difference.