We went to the Museum of the Rockies to see an exhibit that they have there until September:

Here is their description of the exhibit:
"Ten years in the making from the artisans of the Pharaonic Village in Egypt, the Field Museum, and the Metropolitan Museum of Art, this dazzling collection of 126 reproductions faithfully preserves Tutankhamun's treasures. Included in the exhibit are Tutankhamun's magnificent state chariot, golden shrines, beds, thrones, jewelry, his spectacular funerary mask, mummy case, and royal mummy. There are also associated artifacts from the period surrounding Tutankhamun's reign that reconstruct both the historic discovery of the tomb by Howard Carter and the life and times of Egypt's celebrated boy king."
If you have seen the King Tutankhamun Museum at the Luxor Hotel in Las Vegas, you will be underwhelmed by the reproductions at The Museum of the Rockies. In fact, if you have seen the gift shop at the Luxor Hotel in Las Vegas, you will be underwhelmed by this exhibit.
The entire cost of entry, however, was made up by the dinosaur exhibit. I have never been to a better dinosaur museum. I was amazed at the collection that they had. Here is me next to a T-Rex skull.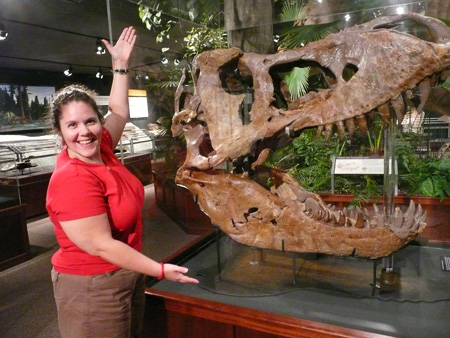 My favorite part of the museum was the collection of Triceratops skulls lined up according to age. Baby Triceratop skulls right up to old age and everything in-between. Each skull was labeled with the exact location in Montana where it was found.
They also had paleontologists there, working on fossils and explaining them to questioning children. I felt like a peeping tom, looking in on their work in the office, but it didn't stop me from looking. It was totally awesome!
With the horrible King Tut reproductions forgotten, we left the museum happy and wishing we could stay and see more.
---
Where:
Museum of the Rockies
600 W Kagy Blvd
Bozeman, MT 59717
Phone: (406) 994-2251