Every time we go to San Diego, we make sure we set aside time to visit Leucadia Sushi Bar. The best feature of the place is the conveyor belt and constant stream of sushi. I filmed a little clip of it back in 2007: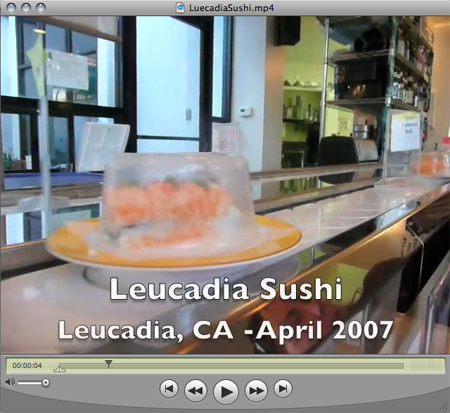 Download this video for your iPod
You pay based on plate prices. There is a price for each plate, you choose a plate from the conveyor belt and stack up the plates you eat. When it comes time to pay, they count up your plates and charge you for each one. Different colored plates indicate different prices.
At the end, I always spend less on sushi here than I do at any other sushi bar, even though I eat so much!
We LOVE Leucadia Sushi Bar and have a pet name for it: Sushi-Go-Round! I can't wait to go back to California to eat there again!
---
Where: 996 N.Coast Hwy 101, Encinitas, CA 92024
Phone Number: (760)635-9312
Business Hours:
Closed on Monday Lunch: 11:30a.m.- 2:00p.m. (tue – fri)
Dinner:: 5:00p.m.- 9:00p.m. (tue – thu, sun) 5:00p.m. – 9:30p.m. (fri & sat)