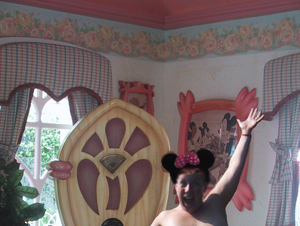 I don't know how I missed it, but back in 2005, NakedJen went to Disney World and had some insights to share with us. Be forewarned, NakedJen is in fact NAKED, so if you're at work, don't click on the link:
My favorite:
When attempting to take a naked picture lying on Mickey's Bed, alarms will go off. There's a reason that there is a do not cross sign there. His bedroom really is off limits. The minute you step into his bedroom, loud alarms sound and Disney cast members come running to see what all the commotion is about. They then will discover you standing there half in the room, half out of the room without your clothes on and they will not be PLEASED at all.
In fact, she didn't actually get a naked picture of herself in Minnie Mouse's room either. She photoshopped herself into the picture. Considering the crowds of children at the park, I would be shocked if she had been able to get away with it without getting arrested.