In the middle of May, we went with Stacey and Dan in the Hummer up Kane Creek Trail. It was a really intense trail, and I took videos of it: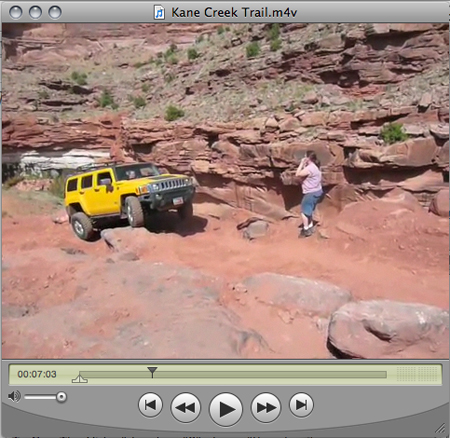 Download this video for your iPod
My favorite highlights are:
At the 3:38 minute mark, the dirt bike riders watch Dan drive up the trail and say, "It's nice to see someone use a Hummer for what it's for!"

At the 6:55 minute mark, the Hummer is right on the edge of the drop off and is balanced on two wheels. Dan and Stacey get past the hard part and make it look easy!

At the 13:57 minute mark, you can see some dirt bike riders make it up the hill. I used to think that dirt bikes would be easier than off-roading with the Hummer until I saw how tired these guys were.

At the 18:45 minute mark, there is a photo of a Jeep that didn't make it through the trail and went over the edge. Unable to retrieve it, the owners have left it to rot in the ravine.

At the 18:57 minute mark, we are in the Hummer at the point where the Jeep went over the edge. It's easy for the Hummer, but we laugh about it uncomfortably.

At the 20:03 minute mark, Stacey asks us if we're ready to do the Lionsback Trail. I unequivocally answer, "No, no, actually, this is our final, final trip." Of course, two months later, I'm excited about it again and want to go on Lionsback!

At the 24:00 minute mark, we are at the watering hole with lots of other people. Dirt bikes, quad-runners and Jeeps have only gone this far and stopped. The driver of the Jeep mentioned to us that he didn't know it was possible to go any further. I guess you need a Hummer to get past that point.
We had a lot of fun on that trip and are looking forward to our next chance to go off-roading with Stacey and Dan in their H3.