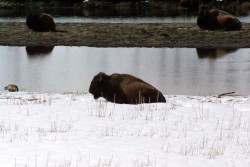 Mike and I are planning a trip to Yellowstone National Park soon, so we were interested to see if we were going to be buried in six feet of snow again this year. Fortunately, the lovely Roland K. Smith visited Yellowstone on opening day this year and gave us a bunch of photos to see how our trip might be.
For some strange reason we didn't get to Yellowstone Park once last year. We decided we were definitely going to change that this year and further determined that, if possible and the weather permitted, we would go to Yellowstone on the first day that vehicular traffic was allowed into the Park.
Last year, Mike and I went to Yellowstone on opening day and we got a FAR different welcome.
The snow was piled higher than our ears. I don't think we'll run into that again this year. Thanks, Roland, for scoping it out for us!
To see more of Roland's Yellowstone Photos:
To see more of last year's Yellowstone trip: